Best Alternative to We Connect
LinkedFusion-The Best We Connect Alternative
Why LinkedFusion is better as compared to We Connect?
LinkedFusion is a smart lead generation platform to generate quality leads from LinkedIn. We-connect is the similar tool but it has many drawbacks.
LinkedFusion has lots of great features unlike We connect, Which makes LinkedFusion a "Perfect solution for B2B Lead generation" 
LinkedFusion is the world's safest alternative to We-Connect for LinkedIn marketing. It offers more helpful features for an Agencies. one of the best feature that LinkedFusion offers is Agency Mode. With this feature, the agency can assign credentials to their clients so that they can access their account and see work progress. Moreover Agency can remotely access their client's accounts. We-Connect does not offer such valuable feature.
The Best Alternative to We Connect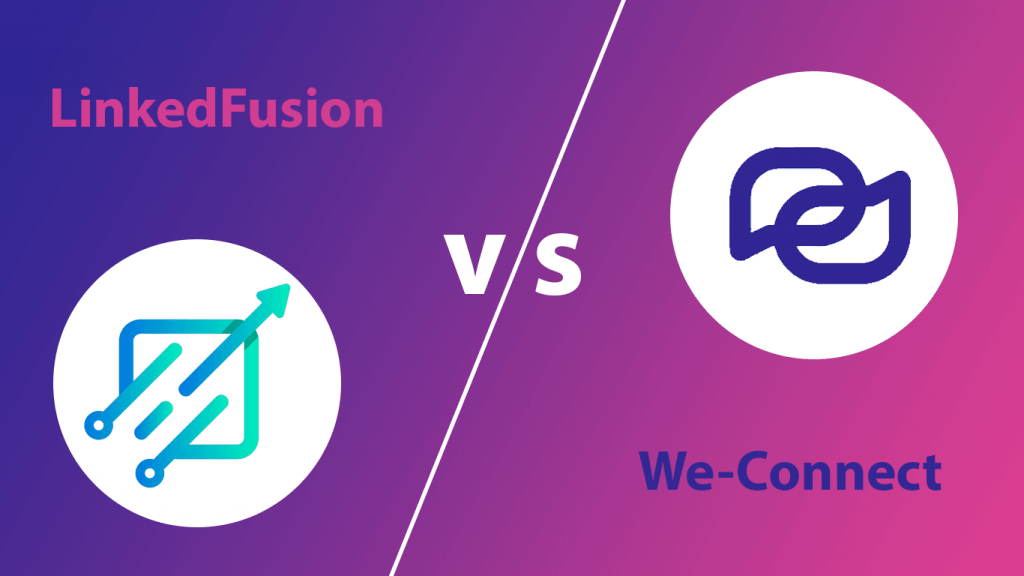 LinkedFusion always outperforms We-Connect with its important features.
We-Connect offers a free trial but you need to add your payment details also it takes too long to get in and sometimes does not even allow finishing set up of a trial. While LinkedFusion offers you a 7 days free trial and you don't need to add any payment details to run your LinkedIn marketing campaign.
LinkedFusion provides its customers more freedom while purchasing. customers can select from 3 pricing plans (Professional, Grow, and Ultimate) according to their need. Unlike We-connect. We-connect offers only one pricing plan for its customers. so in some cases Even if costomers buy, they hardly take the most out of it, and their half of the money will be wasted.
LinkedFusion is Safe to use:
​Go for the smarter, safest, and reliable LinkedIn outreach platform.​
LinkedFusion has smart Intelligent algorithms that are moderated and staggered to make sure your marketing activity is simulated in natural human behavior and saves you from being considered spam.
TimeZone and Browser fingerprinting are handled as default. You can Verify when you log in to your LinkedIn account.
Dedicated IP for every Account in your LinkedIn Account Region.
Automated withdrawals are set as part of the Sequence to avoid LinkedIn Jail.
No need to worry about data loss even if you change your system at any given point. 
LinkedFusion offers more security. Security Softwares such as Kasperski can't delete your extension like other extension based automation tools as spam and you won't end up losing your progress. Your data is safe and secure with LinkedFusion whenever you need it.
Every other software claims the same things so why should you believe us?
At LinkedFusion, We have the expert Developers who have great experience in technology, not some marketing agency who hired someone on Upwork and launched a tool to make some quick money.
Get in touch with our expert to get familiar with LinkedFusion product and Its features.
Cloud-based: It runs 24/7, even when your system is turned off
LinkedFusion is a fully cloud-based software and offers hassle-free solutions for LinkedIn outreach. While some extensions have limitations and need to keep your system always on for automation to work. Whereas LinkedFusion offers you limitless automation experience where you are not limited with time restrictions, it runs 24/7, even when you are not attending it and doing some other important tasks.
Run your LinkedIn marketing campaign in truly autopilot mode, LinkedFusion will automate LinkedIn invitations and follow-up messages within the Sequence's working hours.  All the data also gets synced to your CRM in real-time.
Easy and User-friendly Interface​
LinkedFusion is very easy and has a user-friendly interface to get started. No training is needed to operate LinkedFusion for LinkedIn outreach campaigns. Assign logins to any member of the team to access the system on the go.
We Connect is a very tiresome tool and you need time to understand how to make it work. No need to waste your important time on learning the tool, instead you can use easy and hassle-free LinkedFusion and focus on other important tasks such as closing more deals, product improvement, etc.
Dedicated Support via Live Chat, Email, Knowledgebase – 24*7:​
Do not stop your LinkedIn outreach campaign just because of a lack of help and support. With LinkedFusion, you don't need to wait for support and technical assistance. We provide support via a dedicated account manager where our team gives important advice to take your LinkedIn marketing campaigns to the advanced level. No need to wait for a support agent to reply for days. We will get you up and running within minutes.
Unlike other tools, we offer free set up to our customers. We are confident our system is easy and hassle-free to set up and hence, we offer unlimited hours of support whenever you need.
Designed for organizations running multiple accounts- Team sync with automated Blacklisting :​
It is possible that targeted audiences get overlapped when you and your team are using LinkedIn for lead generation. It is quite meaningless to send similar campaign messages to the same person from different accounts. Conversely, it looks like spam activities because the same lead is reached out by another member of the team.
LinkedFusion has an inbuilt Team Sync feature (Blacklist) to avoid repetitive requests sent from your account. If your team member is already reaching out to the X person, LinkedFusion will take care of such kind of scenario.
If you don't want to send LinkedIn invitations to the particular company's employees, LinkedFusion can blacklist the whole company. It will ensure that your LinkedIn account doesn't reach any employee presently working inside a blacklisted company.
Native Integrations and Webhooks for omnichannel approach & reporting:​
Hubspot Native Integration: LinkedFusin facilitates you sync your activities on LinkedIn to Hubspot on Autopilot saving your sales team from daily repetitive tasks. As this is a HubSpot native integration you don't have to spend anything extra on tools like Zapier for this to work.
Google Sheets: Google Sheet Integration is the most helpful feature of LinkedFusion to automate LinkedIn tasks. With Native Google sheets integrations, one can send their data from other sources (like leadfuze/salesleadgen/solidify) and run LinkedIn marketing campaigns on autopilot.
SalesForce Native Integration: You can sync your activity on LinkedIn to SalesForce with LinkedFusion on Autopilot saving you from daily lots of and tiresome work. Because this is a SalesForce native integration you don't have to spend extra on tools like Zapier for this to work (Coming Soon).
Zapier: Zapier is a useful tool. With Zapier you can integrate with thousands of other apps. LinkedFusion's Zapier Integration can be triggered at any predefined stage which offers you countless opportunities to create any complex systems. 
PipeDrive Native Integration: PipeDrive native integration allows you to sync your activity on LinkedIn to PipeDrive on Autopilot saving you and your team from hours of daily troublesome tasks. Because this is a native integration you will not be paying anything extra on tools like Zapier for this to work (Coming Soon).
Incoming Webhooks: With incoming webhooks, you can send the target audience profile from any source and LinkedFusion handles the rest.
Intelligent Inbox with built-in CRM capabilities:
LinkedIn Inbox is very difficult to use for the users and outdated when you are getting numbers of hot leads weekly (Yes our users hit those targets easily) so we developed an intuitive Inbox where you and your team can:
Reply to your targeted users directly with relevant information available just beside the chat on the dashboard.
Faster Response with pre-written message templates so you don't need to copy-paste the same message all the time.
Tags: You can tag each targeted user as per your process and keep all tasks organized.
Notes: You can take internal notes for future reference.
Are you running an agency to generate leads from LinkedIn? Then we got you covered. Rely on us and consider us your technology partner. We offer Whitelabel and Partnerships so that you can concentrate on what you do the best without worrying about software.
LinkedFusion offers many agency-friendly features for you like Client Dashboards, white-labeled reporting, LinkedIn CRM, and so forth.
Get in touch with us to learn some very successful and proven growth hacks.
LinkedFusion vs We Connect
| | | |
| --- | --- | --- |
| | | |
| Google Sheets Native Integration (Without Zapier-Native) | | |
| | | |
| | | |
| Automated connection request | | |
| Customized automated connection message | | |
| Multi-Channel Integrations (Without Zapier-Native) | | |
| | | |
| Hubspot Integrations (Without Zapier-Native) | | |
| | | |
| Compatible with LinkedIn Sales Navigator | | |
| | | |
| | | |
| | | |
| | | |
LinkedFusion vs other Alternatives
Generate more leads easily with LinkedFusion
LinkedFusion is built to grow and improve engagements, spark real conversations, and drive more revenue. Make lead generation and sales funnel easy with LinkedFusion.