LinkedFusion Native Integration with Salesforce CRM
A guide for easy Salesforce integration with LinkedFusion
Integrate LinkedFusion with Salesforce CRM
Get step by step on-screen video tutorial to Integrate LinkedFusion with your Salesforce CRM.
When you enable Salesforce to Linkedin integration, it will be easier to get your leads all at the same place so that you can focus on outreach and closing.
Step 1 : Sign into LinkedFusion portal
Step 2 : Go to Salesforce settings under Integrations
You'll find Salesforce Settings on the left-hand side of the LinkedFusion Dashboard. LinkedFusion supports native integration with most CRMs. Here we are focusing on Salesforce to LinkedIn integration.
Step 3 : Click 'Connect with Salesforce' to connect LinkedFusion with Salesforce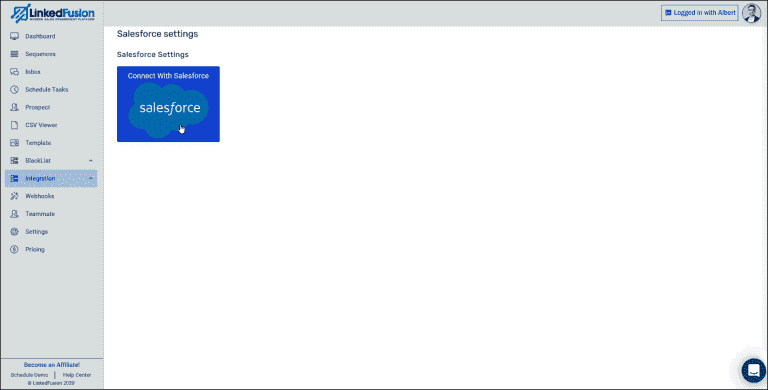 Step 4 : Allow access to Salesforce Integration with LinkedFusion
The next step is to enable Salesforce and Linkedin integration. In this case, Salesforce integration would ask for access from your LinkedFusion account.
To enable Salesforce LinkedIn integration, you will need to provide the following permissions:
Access to your basic information.
Access and manage your data
Provide access to your data via web
Access and manage your Chatter data.
Provide access to custom applications
Allow access to your unique identifier
Access custom permissions
Access and manage your Wave data
Access and manage your Eclair data
Manage hub connections
Access pardot services
Perform requests on your behalf at any time.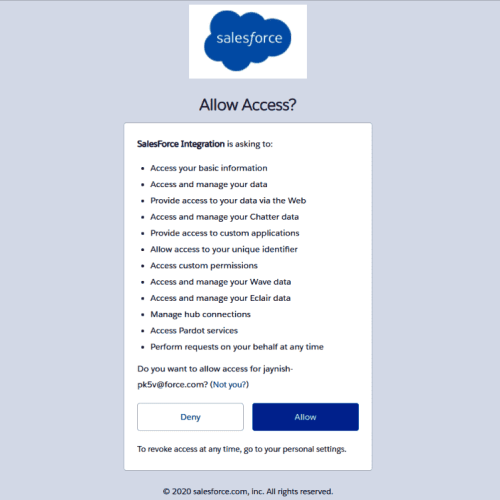 Step 5 : Finally LinkedFusion will ask your permission to create contact automatically on acceptance
Here, the default settings would be ON to create contact automatically on acceptance.
LinkedFusion supports salesforce fields to trigger with portal field.
You can also have customized fields for your prospects into your Salesforce CRM.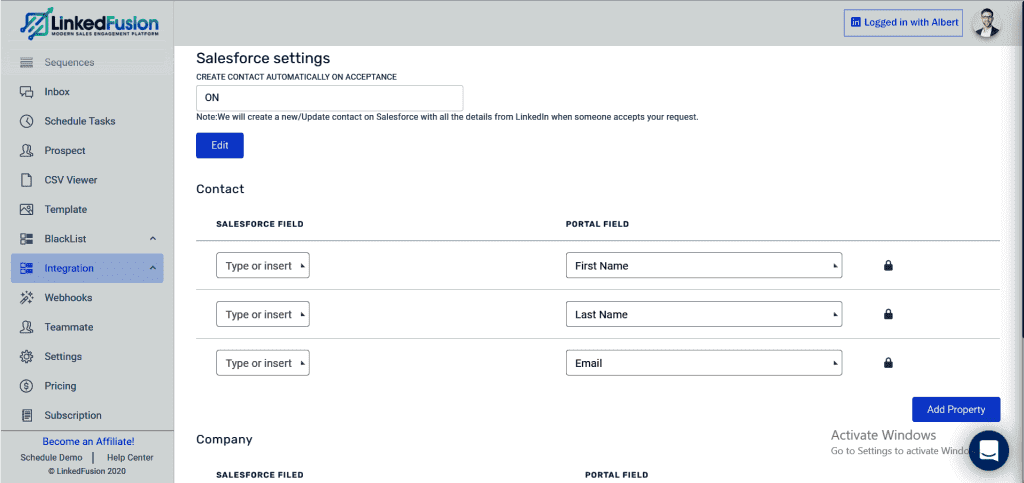 Step 6 : Save and get your LinkedIn leads into Salesforce CRM automatically.
How LinkedFusion Salesforce Integrations work ?
If you have enabled Salesforce and LinkedIn integration:
Whenever a new contact or a lead accepts your invitation on LinkedIn, a new contact will be created inside your salesforce CRM automatically.
Also, whatever conversation you are having with your prospects will be synced up inside Salesforce and we will update the conversation as notes (as the contact notes) inside your Salesforce CRM.
So this way you could keep track of the new contacts who have accepted your invites by going straight to the salesforce crm
You can even book a Support call with LinkedFusion Expert for more queries
Boost your lead generation with LinkedFusion
LinkedFusion is built to grow and improve engagements, spark real conversations, and drive more revenue. Make lead generation and sales funnel easy with LinkedFusion.