LinkedIn Native Integration with Pipedrive
A guide for easy Pipedrive integration with LinkedFusion
Get step by step on-screen video tutorial to Integrate LinkedFusion with your Pipedrive CRM.
When you complete LinkedIn Pipedrive integration, you can get your leads all at the same place so that you can focus on outreach and closing sales.
Step 1 : Sign into LinkedFusion portal
Step 2 : Go to Pipedrive settings under Integrations
You'll find this on the left-hand side of the LinkedFusion Dashboard.
LinkedFusion supports native integration with most CRMs, including Pipedrive LinkedIn integration.
Step 3 : Get Pipedrive API Key from your Pipedrive dashboard
You will find the API key from Profile >  Personal Preferences > API. To be able to complete Pipedrive API integration, you will get your Personal API token. Copy that API key.

Step 4 : Paste Pipedrive API Key into LinkedFusion portal
Step 5 : Select Options as per your CRM requirements.
1. 
Create contact automatically on acceptance
This function will create a new contact automatically inside the pipedrive whenever a prospect accepts your invitation from your outreach.
 2.
Owner
If you have teammates or sub users inside your Pipedrive you will see the list of them under the owner section. You can select who should be owner of that certain contact created inside your Pipedrive.
3.
Default stage
There are deal stages inside the pipedrive so LinkedFusion gives you an option where you could add the prospect or contact that you created inside pipedrive directly inside a stage when they accept your invitation or a new contact has been created inside the CRM at the same time.
4.
Visible To
This option allows you to set that contact is visible to. You get two choices owners and followers so it would be private to followers if you have selected owners and vice-versa. It can also be shared between the whole company.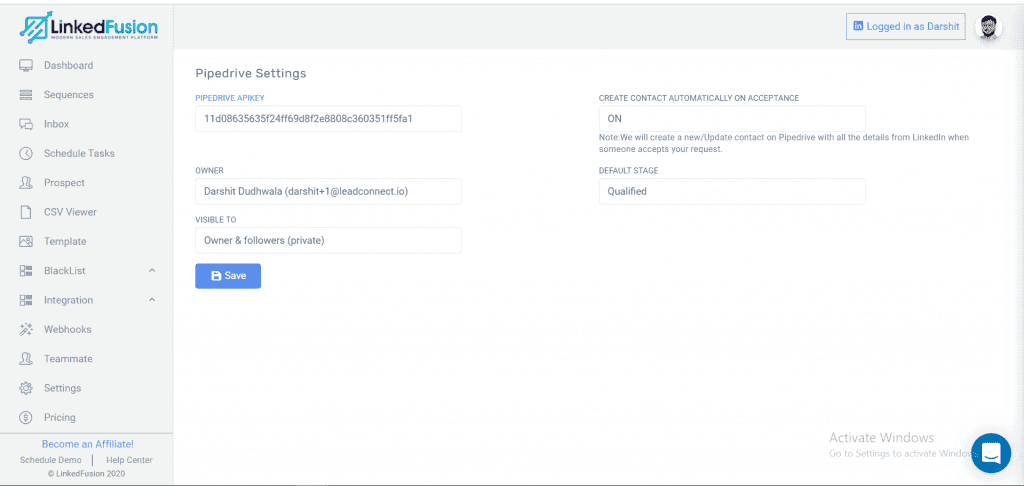 Step 6 : Save and get your LinkedIn leads into Pipedrive CRM automatically.
How LinkedFusion Pipedrive Integrations work ?
Whenever a new contact or a lead accepts your invitation on LinkedIn, a new contact will be created inside your Pipedrive CRM automatically.
Also, whatever conversation you are having with your prospects will be synced up inside Pipedrive and LinkedFusion will also update the conversation inside your Pipedrive CRM.
So this way you could keep track of the new contacts who has accepted your invites straightly go inside the Pipedrive CRM.
You can even book a Support call with LinkedFusion Expert for more queries
Boost your lead generation with LinkedFusion
LinkedFusion is built to grow and improve engagements, spark real conversations, and drive more revenue. With LinkedIn Pipedrive integration, you make lead generation and sales funnel easy with LinkedFusion.