Hubspot Integration with LinkedFusion
A guide for easy HubSpot integration with LinkedFusion
Steps to Integrate LinkedIn Leads with Hubspot using LinkedFusion
Login to LinkedFusion Dashboard.
Find HubSpot setting on the left-hand side.
Go to HubSpot CRM and login to HubSpot Dashboard.
Click on "Setting" icon on the top right side.
Click on "Integration" and then click on "API Key" [Generate your API Key or click on to show your API key if you have generated before.]
Copy an "API Key".
Go to LinkedFusion Dashboard again and paste an API key in the "HubSpot APIKEY" box.
Go to HubSpot Dashboard again, and find user profile picture section. (Below the "Profile & Preferences" find portal number.)
Copy that number.
Go to LinkedFusion Dashboard, paste it into "HubSpot Portal ID" box.
Turn on "Create Contact Automatically on Acceptance" button.
Click on "Save" button.
Things required to integrate HubSpot with LinkedFusion
Lets us start integrating…
Go to the LinkedFusion account, on the left-hand side, you will find HubSpot "Setting".
Now to connect your HubSpot CRM with LinkedFusion you need to go to your HubSpot account.
Click on the setting. Make sure you are the super admin of the account, if you are not, then contact the admin of your organization's account.
After that, click on ask him to give you an API key. If you are the super admin, you can go inside the integrations on the left-hand side.
Click on the API key and here you will find your API key.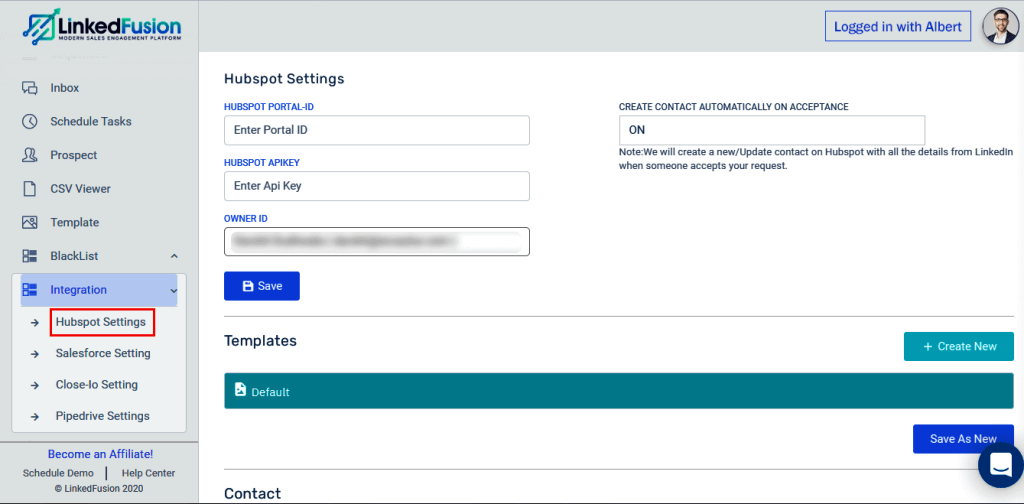 If you don't see this over there, that probably means that you don't have an API key created or if you are not an admin user it will say that you don't have sufficient rights to create an API key.
In those cases, you can contact your HubSpot admin whoever he is, and ask him to give you an API key.
if you don't have an API key or have not generated yet, there will be a button that says generate an API key. And that will generate an API key.
If you already have the key then click on the show button.
Copy the API key.
Then, go inside LinkedFusion and paste an API key into the second row that says HubSpot API key
Now you will need to fill the second field with the HubSpot portal ID. To get that you can go inside HubSpot once more time.
Click on this drop-down and there you will see the portal ID.
Copy that number and add it to the LinkedFusion account where we were filling out in the previous step.
And that's all the things that you require to set up HubSpot integration with LinkedFusion.
Now on the right, you can see there is an option that says create contact automatically on acceptance. You will find a switch there.
What this switch does is once you turn it on, it will create a contact inside your HubSpot CRM automatically, whenever somebody accepts your invitation from your LinkedFusion sequence.
If you don't know what a LinkedFusion Sequence is, you can just watch out our video here.
Once that's done you click on the save button and it will save the settings in settings for your HubSpot integration within LinkedFusion.
All records will be saved.
Now once you save this, a field will pop up showing owner ID.
Now, this field shows you all the team members that you have inside your HubSpot. So you go over HubSpot and click on the drop-down, you can see all the team members that will be there inside your HubSpot CRM.
You need to select your profile there.
And click on save once more. Now what we are basically doing here is we are saying the LinkedFusion that whatever contact you are creating inside the HubSpot CRM automatically, make sure you tell HubSpot that I am going to be the owner of that contact so when all contacts are being shared with your entire team, HubSpot knows that these were the contacts has been created by you.
Once you set this up everything is good to go.
If you have a question about HubSpot integration with LinkedFusion or stuck anywhere, please contact us.
You can even book a Support call with LinkedFusion Expert for more queries
Boost your lead generation with LinkedFusion
LinkedFusion is built to grow and improve engagements, spark real conversations, and drive more revenue. Make lead generation and sales funnel easy with LinkedFusion.