It is not a hidden fact that optimizing your LinkedIn profile will result in more engagement with your prospect. And one of the most important parts of optimizing a LinkedIn profile is improving your headline. 
Your photo and headline both are the first thing that your prospect's view. If you're not doing it correctly, you could not be grabbing the hiring manager's attention. Improving headlines for LinkedIn will also increase your visibility in LinkedIn search. In this blog post, I'll outline the significance of your LinkedIn title and how to completely optimize it to make a great first impression.
Crafting an effective LinkedIn headline is crucial, especially for a sales professional. Your LinkedIn headline is your digital first impression, and it's pivotal in capturing attention and establishing your professional identity. So, why should you create the best headline for LinkedIn as a sales professional? Below are some reasons why you LinkedIn headline is important:
A LinkedIn headline is the first thing that a viewer sees when they view your profile. Basically, it's an introduction /resume that tells people why they should connect with you.

If your profile appears in someone's search, then your headline should be enticing enough for them to view your profile. For instance you are a job seeker then your profile a good line would give you an edge over your competitors. 

When any recruiters, hiring managers, and prospective employers view your profile your headline gives your first impression to them.

Your headline also shows that you are a credible member of the community.
What are the character limits of the LinkedIn headline?
The character range of the character limit of the LinkedIn headline is from 120-220 as of 2020. You can add keywords, a small pitch or mention the services that you provide in your headline section:
How to write a good LinkedIn headline?
As one of the first things people see when they view your profile, writing a strong LinkedIn headline is crucial. Here are some guidelines to help you write a catchy headline:
Be concise and specific:

Use the limited characters available (up to 120) to clearly communicate your professional identity. Highlight your expertise, skills, and industry.

Include relevant keywords:

Incorporate keywords that are commonly used in your field or industry. This can help improve your profile's discoverability in LinkedIn searches.

Showcase your unique value proposition:

Try to differentiate yourself from others in your industry by emphasizing your unique strengths, achievements, or specializations.

Mention your current position or job title:

Include your current role to provide immediate context about your professional aspirations and activities.

Highlight key accomplishments or accolades

: If appropriate, mention notable achievements, awards, or certifications to further validate your expertise and credibility.

Consider your target audience:

Think about the audience you want to attract or engage with on LinkedIn. Tailor your headline to appeal to recruiters, potential clients, or industry peers.

Be authentic and genuine:

While it's important to make your headline attention-grabbing, ensure that it accurately represents who you are professionally. Avoid vague or exaggerated claims that may seem insincere.
When crafting a LinkedIn headline, it's important to understand your target audience. Knowing who your target market is will help you better personalize your offerings to suit their requirements and interests.
How can you choose the right keyword for your LinkedIn headline?
The following are some essential stages to understanding your target audience. Use these steps to find keywords for your LinkedIn headline:
1. Identify your career goals: Consider the specific industry, role, or expertise you want to highlight in your headline.
2. Research job descriptions: Look for job descriptions of positions similar to what you aspire to have. Pay attention to the keywords and phrases used to describe the required qualifications, skills, and responsibilities.
3. Analyze profiles of successful professionals: Look at profiles of individuals who have achieved success in your desired field. Observe the words they use in their headlines and the key attributes they highlight.
4. Use LinkedIn's search bar: Experiment with the search bar on LinkedIn by typing in relevant keywords related to your field. Observe how professionals in those fields structure their headlines and incorporate those keywords.
5. Leverage industry-specific websites and resources: Explore industry-specific websites, forums, and publications related to your career goals. These sources often use keywords that are highly relevant to your desired industry.
6. Consider transferable skills: Identify transferable skills and strengths from your current or previous roles that are relevant to your desired career path. These can be crucial keywords to include in your headline.
7. Reflect your personal branding: Incorporate keywords that align with your personal brand. Consider your unique strengths, experiences, and values, and use keywords that reflect those qualities.
8. Mix and match keywords: Experiment with different combinations of keywords to strike a balance between relevance and creativity. Avoid generic or overused terms and try to stand out while still being specific.
9. Prioritize strong keywords: Highlight the keywords that best represent your expertise and differentiate you from others in your field. These keywords should be prominent in your headline.
10. Regularly review and update: As your career evolves, regularly review and update your headline to incorporate new keywords, skills, or achievements that have become relevant.
Remember that your headline should be concise and engaging while effectively showcasing your professional brand. Ensure it resonates with your target audience and captures their attention.
Condition specific headline template
Below are some of the job title and headline example:
If you are a sales representative looking for generating leads as:
"Harboring Dreams, Delivering Realities | Guiding Success Stories as an Account Executive"

"Account Executive | Cultivating Profitable Partnerships and Driving Revenue Growth with Strategic Solutions."
Sales Director/VP of sales

 
"Sales Director | Orchestrating High-Impact Strategies to Skyrocket Revenue and Foster Sales Excellence."

"Forging New Frontiers in [Industry] | Guiding Teams to Achieve Unprecedented Heights."
If you are a marketer:
Marketing Automation specialist
"Marketing Automation Specialist | Streamlining Campaigns, Amplifying Engagement, and Unleashing Data-Driven Success"

"Crafting Connections with Code | Enhancing Outreach Efficiency as a Marketing Automation Specialist."

"Codes, Creativity, and Conversions | Crafting Marketing Magic as an Automation Specialist"
"Marketing Manager | Driving Brand Growth Through Innovative Strategies and Impactful Campaigns"

"Navigating Trends, Shaping Brands | Building Market Dominance as a Marketing Manager"

"Marketing Maverick | Guiding Brands to Prominence with Dynamic Strategies and Insightful Insights"
For the above example you can observe how headlines differ with changing roles in the same domain.
What should you avoid in your LinkedIn headline?
When creating your LinkedIn headline, you should avoid the following:
1. Vague or generic statements: It is important to make your headline specific and unique to grab attention. Avoid using generic terms like "business professional" or "experienced marketer." Instead, focus on highlighting your expertise, achievements, or specific skills.
2. Overused buzzwords: Omit overused buzzwords such as "guru," "ninja," "rockstar," or "expert." These terms can make your headline sound cliché and unprofessional.
3. Unrelated or irrelevant information: Ensure that your headline accurately represents your professional identity and career goals. Avoid including personal details, hobbies, or unrelated experiences that do not align with your professional persona.
4. Excessive abbreviations or acronyms: While industry-specific acronyms can be relevant, too many of them can confuse or alienate others who are not familiar with them. Keep your headline clear and understandable for a wider audience.
5. Discriminatory or offensive language: Maintain a respectful and inclusive tone in your headline. Avoid any comments, language, or phrases that may be discriminatory or offensive to others.
6. All caps or excessive symbols: Using all capital letters or excessive symbols for emphasis may give the impression of being spammy or unprofessional. Stick to proper capitalization and use symbols sparingly if necessary.
7. Resume-like headlines: LinkedIn is a professional networking platform, not a resume. Avoid simply replicating your job title or previous positions. Instead, focus on showcasing your unique value proposition and areas of expertise.
Remember that your LinkedIn headline is like a personal branding statement, so it should be concise, professional, and distinctive to make a positive impression on recruiters, potential employers, and connections
Let's see some of the LinkedIn headline examples: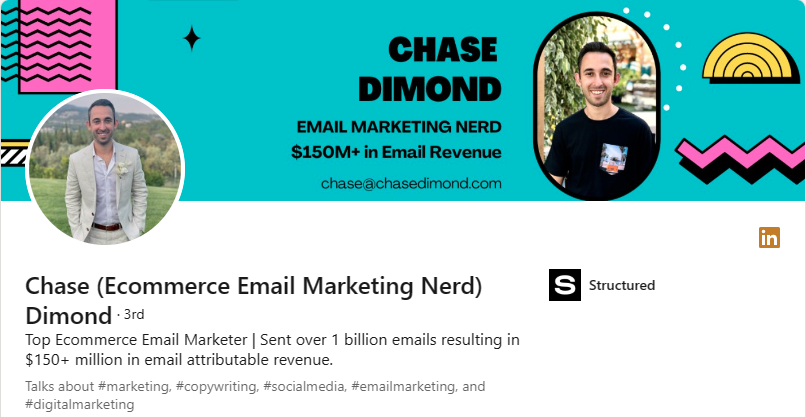 This headline states that he is an email marketing nerd and with that he has given the proof of his experience by stating the number of emails that he has sent. Digital marketing, marketing consulting, email marketing, copywriting, marketing strategy. Proof of experience: "I have sent over 1 million emails"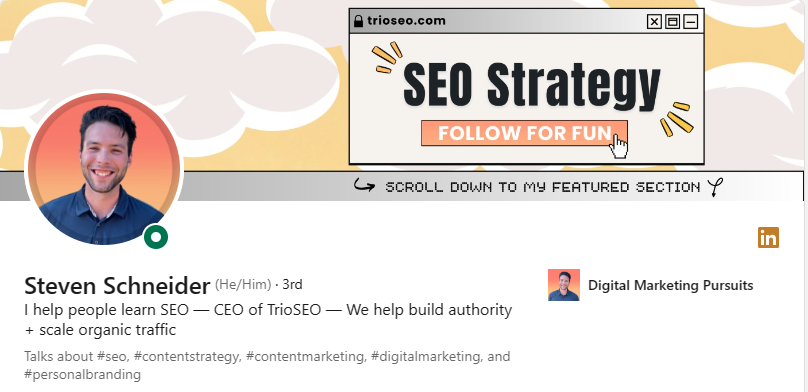 Steven Schneider is a CEO of TrisSEO. His LinkedIn headline states the value i.e "help people learn SEO". Then he mentions the services that he offers. So, if you are someone who wants to optimize your website and blog you will definitely want to connect with him. The message that his headline gives is that: His product adds value by providing high-quality blog content that builds authority and boosts organic traffic. Follow him for expert content marketing services.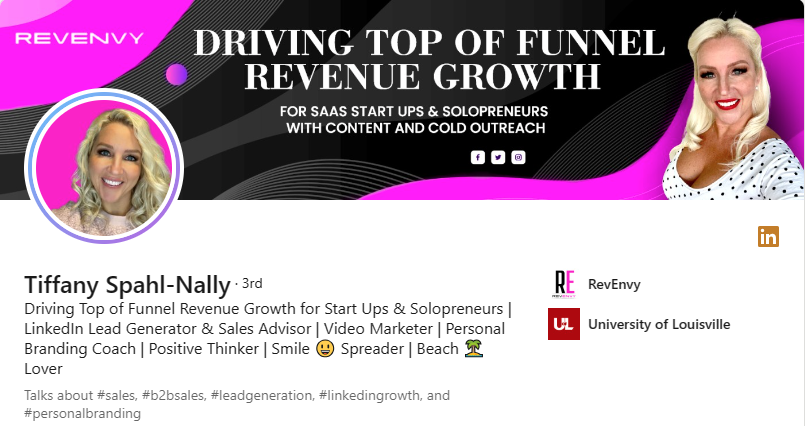 She provides services that generate leads for the sales pipeline, increase revenue, and scale quickly. Combines social selling with email marketing and more. From her headline you can conclude that she has helped numerous businesses unlock profitable growth and achieve their sales goals. Here she had used keywords in her headline for ranking better in the search. You can also use this tactic if you are someone who offers multiple services.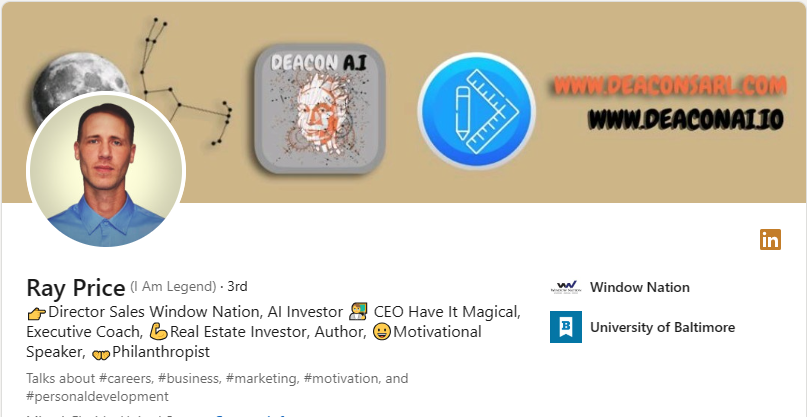 👔💪🌟🔥✨ Introducing Ray, the multitasking CEO, executive coach, sales director, motivational speaker, and philanthropist! With his expertise, he's transformed the sales industry through his "Unique Sales System." 🙌💼🌍 Ray's warm-hearted approach and dedication to empowering others make him the perfect guide to help you unlock your potential and achieve sales greatness. His headline inspires you to connect with him and know further about him. He has also used keywords that helps you understand the services that he offers.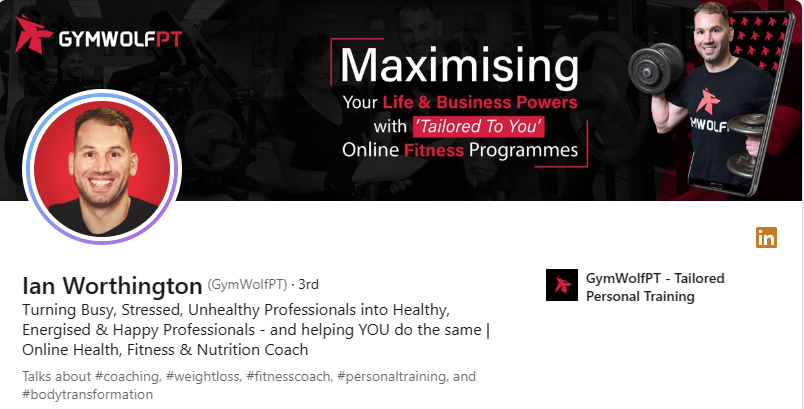 Ian Worthington runs a fitness coaching business called GymWolfPT . He aims to help people reach their specific goals, by getting healthy. When you read his headline, you will know that his headline is written for a target audience: Professionals who want to get fit and achieve specific health goals. So, if you are someone who offer your services to a target market then you can also use this practice to write you headline.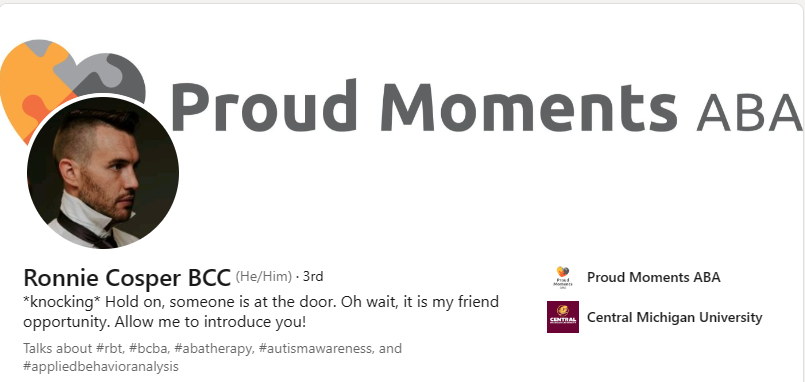 Ronnie Cosper BCC offers life coaching, public speaking, strategic planning, change management, development coach. This headline is creative and uses imagination about the possibility of achieving higher potential. 
Why did I like this headline? 
When compared with another genetic headline, this headline is like a fresh breeze of air. And at the same time creates curiosity to know more about the services that the person has to offer.
Frequently Asked Question's