What is LinkedIn SSI and How can you Increase it?
LinkedIn's SSI or Social Selling Index is a score given by LinkedIn that indicates how well you and your team have become efficient at social selling. If you have a LinkedIn account, you can check your SSI score for free and work towards increasing it.
But, why should you increase your LinkedIn SSI? According to LinkedIn, social selling leaders with higher SSI create 45% more sales opportunities as compared to those with a lower SSI. Also, people with higher SSI are 51% more likely to reach their sales quota.

If you want to understand what, why, and how about LinkedIn SSI, and some effective ways to increase it, then read on to learn more.
According to LinkedIn, "social selling is about leveraging your social network to find the right prospects, build trusted relationships, and ultimately, achieve your sales goals."
Social selling basically refers to the modern age way of sales, which is through social media. By engaging and building relationships with your prospects, you can become more efficient at sales in today's age.
LinkedIn's Social Selling Index (SSI) is a score provided to indicate how much you have embraced social selling. In the next section, we'll talk about the four pillars of social selling. When you work on these pillars, your SSI will increase, and you'll close more sales and grab more opportunities.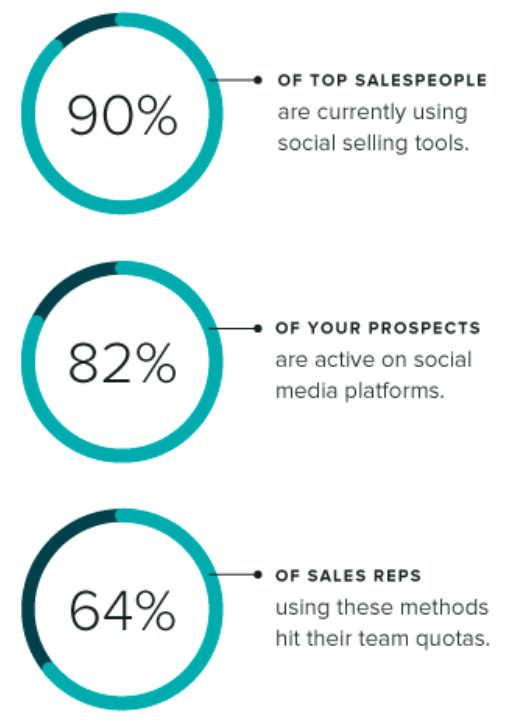 How to Increase your LinkedIn SSI ?
According to LinkedIn, there are four main pillars of social selling. Each of these pillars contributes 25% to your total LinkedIn SSI. Hence, when you work on these, you automatically improve your SSI and close more sales.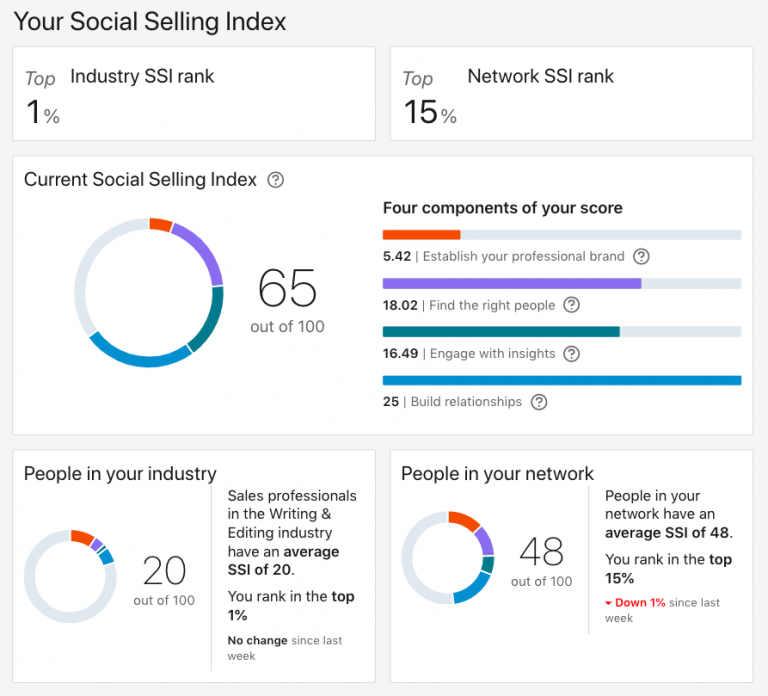 Here's a brief breakdown of the four pillars of social selling and how you can work on them to improve your LinkedIn SSI:
1. Creating your Professional Brand
If you know anything about selling, then you know the importance of branding for social selling. When you have a strong professional brand and have established your authority in the industry, clients and vendors are more likely to pick you over your competitors.
Having a strong professional brand is an indicator of industry experience, subject matter expertise, and trustworthiness. When you have a strong brand, your prospects will know and believe that you can solve their pain points better. And this ultimately will lead to increased sales.
You can follow the following steps, for creating your professional brand on LinkedIn:
Ensure that you optimize your LinkedIn profile well. Add all the necessary details and add the right keywords throughout your profile. You can use our comprehensive guide on LinkedIn profile optimization for this.
Display authority through your profile. You can do this by showcasing your wins, customer success stories, and case studies at various places on your LinkedIn profile.
Lastly, ensure that you make your contact details and website links easily accessible to anyone who lands on your LinkedIn profile.
2. Focusing on the Right Prospects
Finding the right people to market and sell your products contributes to almost half of the win. If you miss out on finding the right target audience for whom your products or services are the perfect fit, then you won't be able to sell effectively. Even if you make sales, you'll lose your customers eventually.
With LinkedIn Sales Navigator or even the basic LinkedIn account, searching and finding the right prospects gets easier. Once you have your ideal customer personas in hand, you can use the LinkedIn Sales Navigator's search option to drill down on the prospects who are most likely to become your life long customers.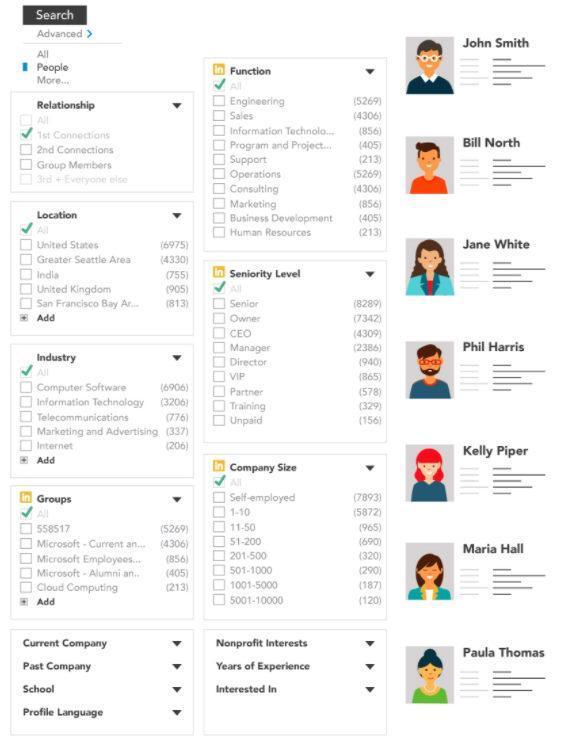 Here are a few tips on finding the right prospects:
1.Use LinkedIn's Advanced search feature to narrow down your target prospects. Do not implement social selling on people who vaguely fit your buyer persona. Instead, go more specific.
2.Take maximum advantage of all the LinkedIn search filters provided to ensure that you don't waste your time and resources on profiles that do not have high chances of converting.
3. Engaging with Insights
Putting out relevant industry content, and building thought leadership forms one of the most essential elements of putting yourself out there for your prospects to notice you. When you create thought-provoking, original content about the industry trends and news, you are perceived as an expert in your industry.
This not just refers to creating original content. Sharing relevant industry news first, commenting on news alerts, and building your brand overall, helps you to attract potential buyers and close more sales. In fact, according to LinkedIn, over 62% of B2B buyers respond to salespeople that connect with relevant insights. Here are a few tips on how you can do that:
1.Like, share, and comment about your insights on the posts of your target prospects. When you genuinely converse with your prospects on LinkedIn, you are bound to get noticed.
2.Use the LinkedIn Publisher feature to create and publish articles on the topics of your expertise.
3.Share your company's content such as interviews, videos, and blog posts with your audience on LinkedIn.
4. Building Trusted Relationships
Focusing on building relationships rather than simply pitching and selling is what LinkedIn stresses. When you simply try to sell to your prospects, you'll have a bad impression on your prospects.
Instead, try to genuinely help them out and solve their pain points. Provide them your perspectives and help them out in any way you can. When you do so, you'll build trustworthy relationships with your prospects. And guess where they will go when they need products and services? They'll most likely reach out to you!
Here are a few tips to build trusted relationships with your prospects through LinkedIn:
1.Connect with more and more relevant industry experts and prospects on LinkedIn. Send a personalized message to them along with the connection requests to ensure that your requests are not ignored.
2.Get in touch with your prospects through direct messages and offer to help them without asking anything in return initially. This way, you'll make strong, genuine connections with your prospects over LinkedIn.
3.Try to connect with decision-makers and company leaders as this will help you sell more effectively through LinkedIn.
Social selling is the process of using your social media network to find, connect, engage, and sell to your ideal customers. 
Working on your professional branding, finding the right prospects, engaging with insights, and building trustworthy relationships, form the four pillars of LinkedIn social selling. By consistently working on all these, you'll be able to increase your SSI score over time.
Boost your lead generation with LinkedFusion
LinkedFusion is built to grow and improve engagements, spark real conversations, and drive more revenue. Make lead generation and sales funnel easy with LinkedFusion.