Did you know that you can increase your LinkedIn connections by scanning QR codes?
The majority didn't!
It makes sense that since this feature is relatively new, many individuals were unaware of it. And as we'll see further below, one of its primary applications involves meeting people offline and maintaining connections on LinkedIn. Imagine you want to connect with someone on LinkedIn while you are physically present at a networking event. You can just open your QR code and have them scan it with their phone for immediate access rather than awkwardly and slowly dictating your name or handing them your phone.
Simple, right?
You'll be familiar with everything you need to know about using LinkedIn QR after reading this article.
Meeting someone offline and keeping in touch with them on LinkedIn is simple thanks to the LinkedIn QR code. With the help of this function, you may rapidly identify LinkedIn users and connect with them by quickly scanning a QR code. LinkedIn QR code provides a simple and efficient way to connect with a particular LinkedIn member. 
However, it's crucial to keep in mind that the LinkedIn QR generator only functions for personal profiles and NOT your company page.
We'll show you below how to create your own QR code, which is specific to each LinkedIn user.
What Is a LinkedIn QR Code and How Does It Work?
LinkedIn QR code is a scan that navigates other LinkedIn members to find your profile on LinkedIn. You can also scan someone else's QR code to get to their profile. It makes it easier to access to another LinkedIn member. You can also find a particular LinkedIn profile using the LinkedIn QR code. 
Do you want to create a QR code for your profile?
Here's how you can find your LinkedIn QR code. 
To find your built-in QR code click on the search bar on the LinkedIn mobile app. There click on the scan icon.

Once you have reached the screen you will two options one is your code that other people can scan. And the other is the option to scan other people's code.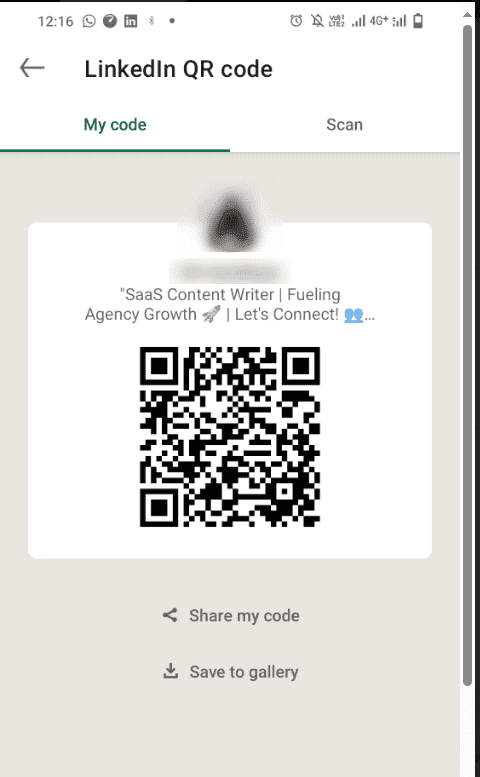 Where Can You Use Your LinkedIn QR Code?
You can Paste your LinkedIn QR code for a LinkedIn networking. It's an easy way to find LinkedIn members using this social media QR code. It's like a networking card that helps people to connect with you on LinkedIn. Here is where you may use your LinkedIn QR codes in terms of practical methods to make the most of them. 
With every email you send, you can improve your LinkedIn profile and broaden your network. To make it simple and convenient for recipients to contact you, add a QR code to your email signature. When approaching new customers, workers, or business partners, this strategy can have a big impact. You'll present a chance to easily produce new leads and relationships if you include a brief call-to-action like "scan to connect professionally."
2) Physical Marketing material
Printings such as brochures, promotional items for trade shows, and even presentation slides should include your QR code. This seamless conversion from offline to online can result in beneficial connections, depending on the medium.
People always carry their phones with them, even when they only use them to access digital material. This makes it simple to add a QR code to your presentation slides, social network profile pictures, résumé, online content, eBooks, and other materials. 
Finally, you may directly send it to someone via email, Facebook Messenger, or another method or include it in your email signature.
Make sure you have your LinkedIn QR code on hand the next time you participate in an in-person networking event. Encourage consumers to scan your code for a quick and easy connection rather than depending on business cards.
Now that you know where you can QR code use it and increase your chances of getting found by your leads on LinkedIn. As opposed to the traditional business cards or sharing URL of your LinkedIn profile linked QR code is more effective. 
What Are the Some of the Best Practices of Any LinkedIn QR? 
To facilitate smoother interactions with you or your company, using a LinkedIn QR Code can simplify communication for others. However, it's important to keep in mind some key principles to get the best results.
1) Verify your LinkedIn link once more
It does occasionally happen that we copy links incorrectly. Ensure that the URL you set on your LinkedIn QR Code and the one your network should visit match exactly. A certain way to lose their attention is to send a new connection to a broken page with problems! If you're unsure, register for QR Code Generator PRO and produce dynamic QR codes without worrying!
2) Adjust the size of your QR Code to fit the medium
Your LinkedIn QR Code might be as big as a billboard advertisement or as small as a business card. Whichever it is, you hold the power of scalable QR Code size in your hands. We do, however, advise that the smallest size be 2 x 2 cm (0.8 – 0.8 in). Your codes should also make sense given the printing media they are printed on and align with the anticipated scan distance. Visit our QR Code size guide for more details on how these functions.
3) Design your QR Code to reflect the image of your business or yourself
Given that LinkedIn is a business network, your LinkedIn QR Code should always be created to reflect your personal brand (or both, if they are the same) as well as your company brand. Give your QR Code style by include unique components like your logo and a frame to accentuate the QR Code. This will increase the likelihood that it will be scanned and provide an added bit of class to your graphic creations.
4) Keep in touch with your newly connected LinkedIn contacts
Regardless of how you connect with others, whether it's through online platforms, in-person interactions, or by sharing QR codes, it's essential to maintain communication with the individuals you meet. Networking fundamentally revolves around collaborating to help each other progress in our respective careers. If you have stronger connections with your contacts, they are more likely to offer professional support and assistance.
There are several applications for LinkedIn QR codes that can greatly advance business development. On the HR side, you may use it as part of your diversity hiring strategy when onboarding new hires.
When you use QR code LinkedIn app redirects to your specific LinkedIn profile with ease. When you create a qr code it helps you to network easily on LinkedIn. So, create QR code and stay in touch with your profile. 
Additionally, it has various benefits for boosting brand recognition and reach from a branding perspective. We've already covered some tactics to make sure your company benefits to the fullest. Utilize and customize them as needed to meet the particular requirements of your target audience.