LinkedIn, the premier professional networking platform, serves as a perfect social networking platform for career growth and business connections. However, encountering a temporary restriction on your LinkedIn account due to policy violations or security concerns, as outlined in the LinkedIn user agreement and Professional Community Policies, can be disconcerting. Understanding how to swiftly resolve these restrictions is crucial to ensuring an uninterrupted LinkedIn experience, as outlined in the LinkedIn help and access to your account guidelines.
In this brief guide, we'll explore the reasons behind LinkedIn account restrictions, such as suspicious activity or content violations, and outline the necessary steps, in accordance with LinkedIn's tools and policies, to address them. Additionally, we'll offer preventative measures to avoid future issues, ensuring that your new account remains in good standing within the LinkedIn community.
Join us as we delve into the key insights required to navigate and resolve a temporarily restricted LinkedIn account, allowing you to return to utilizing this platform for career advancement and professional networking without interruption.
There are some common reasons that your account has been restricted. Many people think that using LinkedIn tools for automation can get restricted but that's not true. Wrong use of the LinkedIn automation tool can get your account restricted. Here are some common reasons that your LinkedIn account is restricted. 
Sending many requests for connections in a single day.
Many queries are met with "I don't know this person" responses.
Using other resources to advertise your account, such as automation systems to increase activity and advertise content.
Getting hacked.
Violating the terms of service. specifically, disobeying the Dos and Don'ts
These are some of the reasons why your account is temporarily restricted. There is another point to note here, if you are thinking of making a new account after the suspension of your old account. LinkedIn will just detect your new account form your IP address and restrict it. And they might give you a permanent ban as well if you go against their rules and regulations. 
How to Solve LinkedIn Account Restriction?
If your LinkedIn account has been restricted by mistake as an error, then here is what you can so to get back your restricted account. Continue reading to know how you can save your account. 
Step 1 : You will first see the "sorry your LinkedIn account has been temporarily restricted" screen if you attempt to log in. If you are currently using a mobile device, activate desktop mode and refresh the page.
How To Enable Desktop Mode In Mobile:
Launch Chrome on your phone. click the three dots in the top right corner. Check the box next to Desktop Site now. Now, everything that you load or reload loads in the desktop site interface. Although I cannot guarantee it for other browsers, the setting for the desktop site may be found in the settings menu.
Launch Chrome on your phone. click the three dots in the top right corner. Check the box next to Desktop Site now. Now, everything that you load or reload loads in the desktop site interface. Although I cannot guarantee it for other browsers, the setting for the desktop site may be found in the settings menu.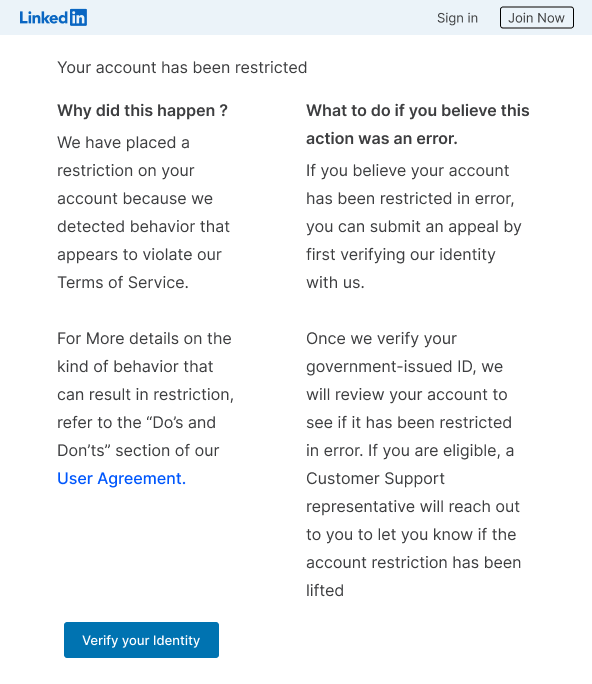 Now select Verify your identification on the subsequent page.
Step 2:
Verify your identification will take you to the following page after you click it:
Choose your country on this page, then the document you want to submit for verification (a passport, identity card, or driver's licence). A front and rear photo of your document must be sent. I chose the Identity card option and then gave them images from my Pan Card, an identity card for Indians. If you chose the identity card option, present any identity card bearing your name, date of birth, photo, and other personal information. Press Continue after choosing the Document option.
Step 3:
After clicking Continue, the following page will appear: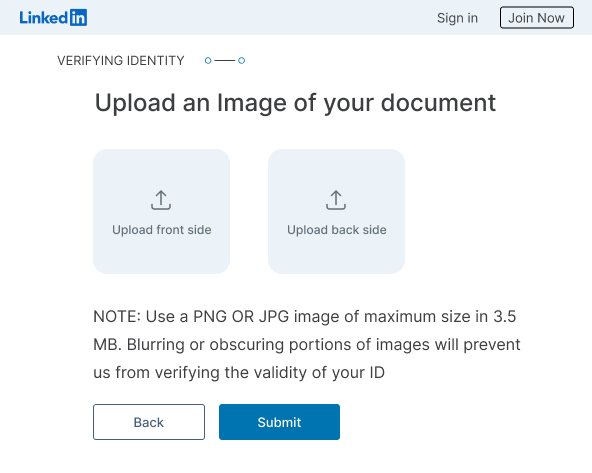 Add your document's front and back photos to this page now. Verify that your shot is clear and not hazy. If not, it won't be validated. Press Submit after uploading your photographs.
The answer is yes! The following page will appear for you: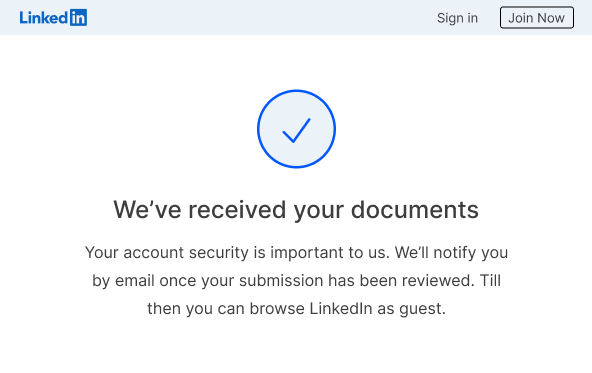 In my instance, my account was enabled 24 hours after I submitted my documents. Simply wait for a while.
I hope this was helpful; if you have any questions, please leave a comment.
Best practices to avoid account has been temporarily restricted
Fortunately, you can always use a restricted LinkedIn account option to save your profile. Your account may be on the verge of being flagged even if it is not restricted.
It's also a good idea to take precautions and be aware of some of the finest LinkedIn practices if you just want to keep your account secure.
The safety precautions we'll be looking at below to prevent LinkedIn suspensions include:
Be selective in who you connect with on LinkedIn.
Adapting and personalizing connection requests constantly.
Producing worthwhile material to demonstrate to LinkedIn and platform users that you are a human being and not a robot.
Utilizing the appropriate LinkedIn tools that simulate human behavior to make your activities blend in.
Let's go over each scenario with examples in more depth.
1. Be selective with your connections, at least at first.
Play it safe and simply add connections that are relevant to your current job up until your profile starts to get traction.
Particularly in light of the fact that the majority of users are only able to submit roughly 100 requests per week due to the new LinkedIn connections cap. Therefore, you should make the most of the requests you do make.
Of course, you ought to begin by including individuals you know well. Then, include contacts that share a common workplace, educational institution, or larger industry, but who also reside and work in the same place.
Additionally, it's a smart idea to expand your network both horizontally (by adding coworkers who share your level and perform comparable tasks) and vertically (by adding contacts who would be higher or lower on the corporate food chain than you currently occupy).
You will eventually have a significantly higher acceptance rate for connections if you optimize your LinkedIn profile, employ customization, and provide quality content. You can use a LinkedIn Profile Checker to do that. 
2. Make connection requests unique
Sending lifeless, bot-like connection request pitches is the worst thing you can do because those are almost always ignored. Instead, think of something original to say and strike up a discussion. After making the first contact, you will move on to the pitch. You won't need to write connection request messages every time if you choose your connections carefully because you may start the chat as soon as they accept.
Nearly no one will connect with you if you send requests like this with no personalization. While this may not directly lead getting your LinkedIn account restricted, it's likely that LinkedIn might think you're a bot. 
3. Share relevant stuff and respond to other people's posts
You run the risk of having your account suspended if you solely use LinkedIn to add and pitch connections without publishing anything or engaging with other people's content.
Share pertinent material on your profile to stop it. That can be anything pertaining to your field as long as it maintains a modicum of professionalism, but it may also be enjoyable work-related activities. Make posts interesting by posing queries or sharing material that will provoke thought and organically pique interest.
The same rules apply when responding to other people's content: like and share anything you find fascinating or pertinent and leave a remark if you have anything insightful to say.
Given the proper LinkedIn content strategy, this doesn't have to be difficult. They are more likely to accept your connection request if they observe that you consistently produce high-quality material after visiting your profile after sending you a connection request.
4. Using the Right LinkedIn Tools
Tools built on Chrome essentially reside in your browser. Thus, you launch your tool in the form of an extension after opening LinkedIn on your preferred browser (such as Chrome).
Then, they operate through your browser (i.e., are not always active, require manual activation each time, use browser cache (which is simpler for LinkedIn to identify), and do not provide dedicated IP addresses (i.e., your IP changes each time). It may raise some red flags if you consistently log in from different nations).
And this is just discussing issues from a safety standpoint. Additionally lacking are several cutting-edge features that would make using LinkedIn's Chrome-based tools much simpler (and safer!)
PS: Examine how LinkedFusion contrasts with one of the most widely used Chrome-based LinkedIn tools here: Best Alternative to Dux-Soup.
Cloud-based LinkedIn Tools

To put it briefly, cloud-based solutions operate online and are more secure than browser-based ones.

Here is what makes them unique:

When using a dedicated IP address your LinkedIn login information is constant throughout all sessions. 
Due to the fact that it isn't front-end (like the browser tools), LinkedIn has a tougher time identifying it.
Advanced features that enable further personalization to make your outreach activities less spammy (e.g., working days/hours restrictions, personalized messages, higher conversion rates, etc.).

If you warm up your account and keep the points mentioned above, then you will keep out from the LinkedIn Jail. 
Now, that you know the reasons why your LinkedIn account might be restricted and what to do if your LinkedIn account gets restricted. Use it skillfully to get the most out of your LinkedIn account. If your LinkedIn account is temporarily restricted as a precaution, you get your account back. You just have to contact LinkedIn to get back the account access back. The primary reason that LinkedIn restricts your account is because LinkedIn is trying to the networking platform relevant.