Finding buyers on LinkedIn for selling your products or updating your CRM lead list is an essential task. And social media platforms like LinkedIn are where you can find your b2b sales leads. But doing so with the basic LinkedIn Premium plan will not give you any best result. For this sales professional subscribe to different LinkedIn sales solutions offered by LinkedIn. Sales navigator is one of the best versions of LinkedIn for sales professionals. Using a sales navigator, you can get a detailed insight on account and lead recommendations that you've been looking for. Let's see how you can leverage the sales navigator's feature to target the right buyers and companies and reach the right decision-maker.
LinkedIn Sales Navigator is one of the premium subscriptions that helps you find new leads by offering user's features like advanced search filters and more. LinkedIn sales navigator helps to increase the visibility into extended networks by optimizing your search capabilities. You can also send personalized InMail messages to build rapport with LinkedIn's audiences.
Why should you get a sales navigator for your team?
The advanced and unlimited search feature that is offered by LinkedIn is one of the strong reasons why people choose to subscribe for the sales navigator. But apart from that following are the features that will help you as well:
Using sophisticated filters to find your target market.

Keep track of developments, engagement with specific persons, and provide sales leads.

Use the platform's extensive filtering, which is not available anyplace else.

Alerts for job changes, mentions of particular keywords, and more.

Real-time update of the lead list and also save leads. 
As you can see, Sales Navigator has a lot of potential for complexity. In order to get most of this sales platform, let's learn more about LinkedIn Sales Navigator best practices and tried-and-true strategies.
How to use LinkedIn Sales navigator to find Prospect?
There are some essential requirements that you should do before you start searching for leads using a sales navigator . Your target audience should be something you thoroughly understand.
Defining your sales preference is the key. 
Sales preferences mean the defined parameter that your target audience should fit in. These parameters are the types of lead you want to see based on factors like region, industry, function, seniority level and more. 
Once you have figured that out you can set your sales preference in the sales navigator. 
Following are the steps to do so:
Click on the "Edits". There you will see the "Edit your sales preferences" button. Select your sales preferences according to your needs. 
Now that you have set the base for lead generation let's see how to boost your leads.
Generating leads with LinkedIn sales navigator
1) Use Advanced filter search filters to contact decision-maker
You can locate high-quality leads that perfectly match your ICP with the LinkedIn Sales Navigator advance filter. You can build a long list of ideal clients to target in your outreach based on the search filters you select, while all the unnecessary leads are automatically filtered away.
What's more?
In fact, you can go beyond utilizing standard search criteria by entering precise terms related to your potential customers. Your list will be condensed by Sales Navigator to only include connected people and businesses, helping you finish the lead qualification process faster and more efficiently. This is how you can set criteria: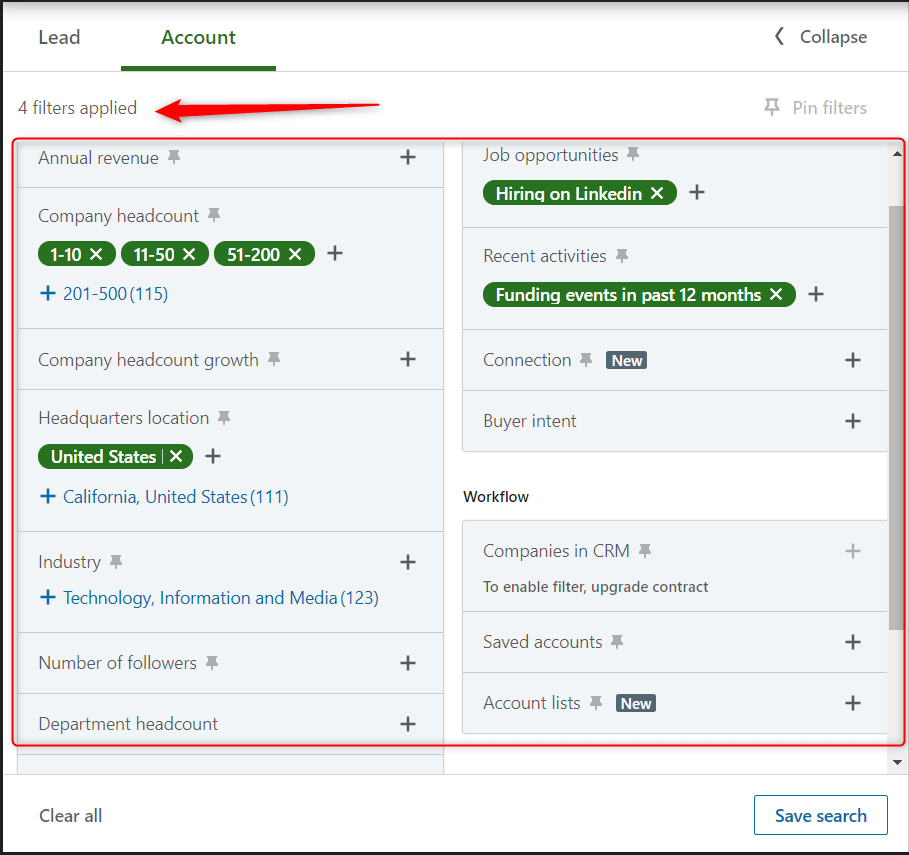 2) Use Boolean Search to Find Relevant Profile for Your LinkedIn Outreach
If you want to further expand your search capabilities, then use the X-ray LinkedIn search to find more personalized and precise search results. There are Boolean search filters like:
Advance search filter: "intitle", "inurl"

Boolean operators: AND, OR, NOT

Parentheses: ()

Quotes: "" to search exact expression
Example: intitle: (senior marketing executive AND digital marketer) or (marketing executive AND SEO content marketer).
3) Create an Optimized Lead List for Your LinkedIn Outreach
A lead list is a list of contacts with a high likelihood of doing business with you or signing a transaction. Once you have all of the search results, you may concentrate on a few leads and add them to a list. The type of lead you want to produce is actually guided by the lead list you build for your sales navigator.You will then have access to data regarding the field or industry of the prospects.
And if you save that search list then you can automate the search for your leads. As and when some new comes on the platform that fits the criteria he will automatically be reflected in your saved leads list recommendation. You can receive notifications when new people match your search results by using the Save Search option. One of the top lead search automation tools is this one.
It is a fantastic approach to find new prospective clients, acquire lead referrals, and get in touch with people as soon as they start working in their new roles.
4) Send InMail or Invitation to Connect with Prospects
Each of these connection methods has advantages, disadvantages, and unique characteristics. As a result, it can be difficult to determine which is better for growing your network and producing fresh leads. For instance, if you know what you're doing, employing InMail for lead creation can be advantageous. 
We've outlined the main characteristics of both common connection requests and Message Ads to make things clearer: 
1) Requests for Connection
Connection requests, as we've established, are requests for another LinkedIn user to join your network. When your connection request is accepted by the receiver then you become the first degree connection of theirs. You don't need a premium subscription for that you can so easily without a free connection.
2) Ads in InMail/Message
You can utilize Sponsored InMail as one of LinkedIn's premium features to connect with a variety of users, profiles, and the platform. Although there are restrictions on how many you can use, it is a useful tool. Here are some of the factors that contribute to its potency: 
Certain messages. You are not subject to any restrictions or character limits. Using the many search capabilities, you may direct your InMail to the recipients who will benefit from it the most.




greater involvement. This kind of letter can help you break through the clutter in the recipient's inbox. 

InMail/Message Ads are supported by a number of tools and metrics that LinkedIn also provides.




These features are really helpful and make it simple to create leads. To ensure that the proper people are receiving your message, you may also check things like read receipts. Of course, a LinkedIn Premium account is necessary for all of this.  
You can contact your prospect now that you are aware of how the Inmail works. But, there is a limit to that, though. 50 InMail credits are included with Sales Navigator each month. Now, this number is very low. A great hack to this is finding leads that have an open profile as there is no restriction on sending InMail to the open profile. Utilize a LinkedIn Automation tool to contact people who have open profiles to speed up this procedure.
How to influence customers and share ideas to get most of your linked account?
While using Sales navigator to search leads can get you leads, it is important. But if you start selling them right away then there is a high possibility that they won't show interest in you. Below are some of the strategies that you can use to engage with your prospect on LinkedIn. 
Accept Every Connection


A person who has the ability to influence numerous people—instead of simply the people they know—is referred to as an influencer. As a result, you should grant everyone's request for a connection. Sure, some people might send you spam right away, but in return, you get access to their network.
Once people interact with your material, every new relationship increases your influence. A percentage of your network will see my material if you Like my LinkedIn post and we are first degree connections, for instance. The magic happens there, so to speak. Your network may be very different from mine, therefore by accidently promoting my profile, brand, products, or services to those who might become my next client.

Be Educated or Have a Strong Opinion


When you rehash the news, nobody is interested. But when you express your views or educate them, they pay attentively. Above all else, you ought to use LinkedIn as a forum for expressing your thoughts and opinions in your most genuine manner.  

On LinkedIn, less is frequently more. In a recent post, I used only two sentences, but they were harsh:

"An 'ICO Advisor' is, by definition, a lousy Advisor if they can't give three reliable references. You are also a poor ICO issuer if you don't seek your advisors for references.

More than 30,000 people watched this post, which had 140 Likes, 70 Comments, and was shared once. 

Two additional marketing techniques to think about

Consider using vulnerability (e.g., "My competitive advantage in the market is my sobriety.") or instructive content to promote engagement as two more marketing methods.  Regardless of your experience, sector, or background, you have distinct insights that are valuable to share. 

What do you comprehend or know that others don't? What are some of the lessons you've discovered through your work, profession, or industry? I assure you that others are curious. 

Post Daily Consistency is key in content marketing


Although I also use Facebook, Instagram, and Twitter, LinkedIn is where my core audience is, and that's exactly where I want it to be. Since engaging this audience pays off, you should publish on LinkedIn every day as well. 

You don't need to produce a feature-length article to get engagement, as was mentioned above. I go between writing short, direct things like "Survey: What's the most underrated [or under the radar] coin in crypto?" and lengthier, more in-depth posts.

Even while it's acceptable to incorporate pictures, videos, or links to publications with strong viewpoints, some of my most popular postings were just simple text. Put constancy before perfectionism. Although it's simple to become fixated on copy and art, your ability to consistently post is much more crucial.

Finally, be patient. Rome wasn't created in a day, and establishing influence takes time. But if you persevere, you'll arrive there quickly.
What are the different pricing plans within Sales navigator?
Experienced Sales Navigator LinkedIn is much more than just LinkedIn. It's an automated sales tool that helps you to find your ideal customers, target the right leads, and access your saved searches whenever you want.
LinkedIn Sales Navigator offers all the capabilities of Premium Business and Premium Career accounts, in addition to a tonne of additional features:
You receive 50 InMail credits per month that you can spend to message people you are not linked to.

You can categories your leads based on details like their location, job description, level of seniority, etc. using advanced search criteria.

You can learn vital information about who is interested in your organization using LinkedIn Sales Navigator pros. You have an abundance of information, such as the date that your prospect changed jobs or the existence of a new opportunity. 
With sales navigator searches, your lead recommendation can also be automated. Additionally, you can track your leads and compile a unique list of them.
Team for LinkedIn Sales Navigator
As the name suggests, LinkedIn Sales Navigator Team is made for companies with sales and marketing teams, and it promotes collaboration and teamwork.
Compared to the regular LinkedinSales Navigator, it has a number of capabilities that allow your team to communicate in real-time, share documents, and sync CRM connectors.
Each team member benefits from LinkedIn Team Sales Navigator in the following ways:
They receive 50 InMail credits each month.

They can hold 5000 leads at once.

They also benefit from all the extra features offered by LinkedIn Sales Navigator, such as Advanced search filters, Lead recommendations, and real-time lead alerts and updates.
With your LinkedIn Sales Navigator Team account, you may accomplish the following as a manager or team leader:
You can manage licensing and keep an eye on everyone's actions in the Sales Navigator thanks to your access to centralized account administration.

It is possible to combine many CRMs, including Salesforce and Microsoft 365 CRM.

Lead lists can be shared in real time with your team.
Having a Sales Navigator Team account can improve team performance while saving you time. It's also great if you want to reduce the number of subscriptions you have and use just one tool for everything.
LinkedIn Sales Navigator Enterprise 
Depending on how big it is, your team's subscription to LinkedIn Sales Navigator will cost. In that case, Sales Navigator Enterprise would be required because it provides advanced, specialized integrations.
If you're serious about maximizing the advantages of LinkedIn and its sales navigator, take into account Enterprise Sales Navigator LinkedIn. It is ideal for well-established companies with sizable sales teams.
Numerous features are customizable, and the pricing is determined by the size of your company and the integrations you need. I understand that the initial annual cost for LinkedIn Sales Navigator Enterprise is $1,600 per seat.
It is most effective for business owners and salespeople who are aware of LinkedIn's and social selling's power.
But you can't just buy an Enterprise Linkedin membership; you have to meet with a Linkedin account manager and tell them what you need from Sales Navigator so they can create a special deal for you.
The main traits of this kind of LinkedIn account are as follows:
You may export all of your LinkedIn data into your choice CRM and set up automatic data synchronization for advanced CRM integration.

You can use Team link to determine whether any of your team members are already connected to your prospect on LinkedIn.

Real-time contact updates: Enterprise Sales Navigator automates the arduous process of manually updating data in your CRM.
If LinkedIn is your main sales channel, getting a customized Enterprise account can be one of the best investments you've ever made. You can start with a Sales Navigator basic account, nevertheless, if your team is small and your resources are constrained. You can also compare the premium pricing of various other plans.
What features ensure the protection of the privacy data on sales navigators?
PointDrive is a unique feature set of Sales Navigator that, along with InMail and messaging, improves sales communications and offers information into buyer involvement. Your private information is never used for purposes other than those that have been approved thanks to PointDrive's usage of databases that are safe, audited, and with limited access. PointDrive customers also have a range of safeguards to prevent unauthorized access to their content, including password security, content expiration, and download restrictions. PointDrive administrators can easily enable or disable the service.
Are you prepared to maximize your LinkedIn Sales Navigator subscription right away?
Your sales and prospecting efforts can be considerably improved by becoming an expert with LinkedIn Sales Navigator.
You can target the right buyers, comprehend crucial insights, and connect with personalized outreach thanks to its comprehensive search features, personalized lead referrals, and real-time sales updates.
By doing this, you can streamline your sales procedures, save time, and put more of your attention towards developing deep connections with potential customers. 
You can start creating leads automatically for free by combining the LinkedFusion trial with the free trial of LinkedIn Sales Navigator!