Many people generating leads from LinkedIn have doubts about the invitation and message sending limits on LinkedIn. If you are someone who is curious about the limit imposed by the prospect then dive to know all about invitation and message sending limits on LinkedIn.
LinkedIn has imposed limitations to protect the member on the platform and to ensure that the members have relevant requests. Therefore, your LinkedIn account may be temporarily restricted from sending invitations once you have reached the invitation limit.
Following Points Mention All About LinkedIn Invitations and Its Limitations:
If you withdraw the invitation that will not revoke your restriction.
All the members on LinkedIn are subjected to invitation limits and restrictions. Additionally, you cannot buy or acquire more invitations while you've been restricted. LinkedIn won't remove the wait period, you have to wait through the process.
It takes a week to start sending the invitation.
It is advisable that you gradually increase sending invitations to the people on LinkedIn. Sending a lot of invitations in bulk can make LinkedIn suspect some spam activity resulting in the restriction of your account.
Your account can be restricted if the invitations that you have sent are ignored, left pending, or marked as spam by the recipients.
You can send up to 30,000 1st degree connections on linkedIn.
Once you have reached the limit of 30,000 connections you cannot accept or send new connection invitations unless you remove connections to keep network size under the limit.
What Is the Ideal Number of Invitations Requests That You Should Send on LinkedIn?
Increasing your network on LinkedIn has multiple benefits. Many people think of expanding their network by sending too many invitations over a short span of time to accelerate their networking. But there is a downside to it, as sending too many invitations in a short period can lead to temporarily suspending your emails.
It's recommended that users shouldn't send invitation requests to people randomly. Sending excessive numbers of connection requests could be interpreted as spam and defeat the point of the platform. Users are advised to limit their connection requests to people with whom they have a direct professional relationship or who have already indicated an interest in connecting.
You can send 100 LinkedIn invites weekly and around 20–30 LinkedIn invites per day. This will improve the quality of your invitation and prevent your account from being suspended. A LinkedIn automation tool like LinkedFusion can also help you to manage sending linkedIn requests and adjust your daily sending limit according to your accounts needs to prevent you from getting banned.
How Can You Personalize Your Invitation on LinkedIn?
To personalize your invitation with your network you can add a personalization message to the recipient. You can introduce yourself or add context to your relationship by attaching a message to your invitation. And if you are a premium member then you can send Inmail to the 2nd and 3rd degree contacts.
How Should You Connect on LinkedIn?
Connect with people you know personally and trust them professionally. Follow anyone whose post you want to keep seeing, so you always stay informed.Turn on creator mode to change your profile action to follow so you can continue growing your network without necessarily adding new connections. In this way you don't have to connect with people even without connecting with them.
What Is the Number of Messages That You Can Send on Linkedin Per Day?
LinkedIn does not have any set limit of messages that you can send. You can send unlimited messages on LinkedIn but it is recommended that you restrict your outreach to 100 messages per week. You can send messages from the message page, LinkedIn messaging conversation window, connection page and LinkedIn menber's profile page. The messages that you send will be viewed by the recipient's message list and possibly in their email according to the LinkedIn notification setting.
How Many LinkedIn Messages Can You Send in a Day?
The daily limit for LinkedIn messages has been set at 1,000 InMails. All accounts, including business, premium, and those with LinkedIn Sales Navigator services, must limit the number of InMails they send to other platform users per day to no more than 1,000. You will get a notification from LinkedIn informing you that your capacity to send InMails will be suspended the following day if you send more than 1,000 messages per day. This is a significant setback for companies who need to expand their reach to increase sales, thus it is ideal to integrate the correct technology to manage your LinkedIn messaging limits.
What Is the Word Limit for LinkedIn Messages?
The word limit of the Inmail messages is 200 characters in the subject and a limit of 1,900 words in the body. LinkedIn also has a dynamic character counter feature which is on the bottom-right section of the composition box. The main aim of this feature is to let the reader engage in a concise message.
How Many Profiles Can You View in a Day?
The limit to view the profile depends on your LinkedIn subscription. If you have a free user then you can view up to 500 profiles per day. The profile viewing limits increase 2,000 profiles per day if you have subscribed for Recruiter or Sales Navigator.
How Can You Write an Effective LinkedIn Profile?
If you write a generic message then there is a high possibility that the message will not be read or they would be marked as spam in both the cases this is not the optimal use of the limited Inmail that you have got. To write an effective message you should address the pain point of the lead and the solution that you want to offer.
What Is the Number of LinkedIn Connection Requests That You Can Send in a Day?
The maximum number of connection request limits is up to 100 connection requests per week on linkedIn. It is advisable that if you have not subscribed for Sales Navigator then stay under 80 connection requests per week.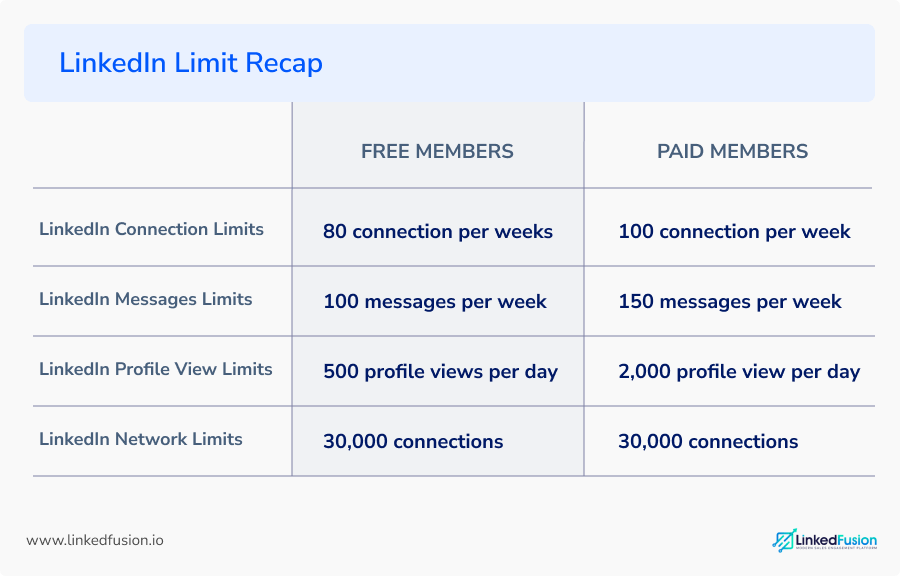 We have discussed almost all of the limitations for LinkedIn messaging and invitation now lets see some best practices for messaging on LinkedIn.
Some tips for messaging on LinkedIn:
You can message the LinkedIn members that you're connected to. You can send a direct message to your 1st degree connection for free. But if you are not directly connected with the LinkedIn member then you can use the LinkedIn Inmail to connect with your prospect.
It is possible to send messages to multiple 1st degree connections.
In order to reply to a message, you may also search for sent and received messages using filters or keywords to carry on a conversation with your connections.
You can choose to leave a conversation in LinkedIn messaging or mute it to stop getting notifications for new messages in the thread.
You can also end a chat that you began by deleting the conversation.
Using these tips, you can reach out to your prospects without being restricted by LinkedIn. But it is not sufficient for effective outreach. To get an appropriate response and convert leads, you should personalize your message. The LinkedIn automation tool offers templates that convert. These tools let you personalize messages by adding company names, locations, and more.