Your Search for The Best Kennected Alternative Ends Here!
LinkedFusion-The Safest Alternative to Kennected
Why is LinkedFusion a better platform than Kennected
and why should one upgrade to close more deals?
Kennected is a LinkedIn automation software that helps B2B lead generation. Kennected can be used in prospecting clients to scale outbound outreach. It sends connection requests, follow-up messages and answers them automatically from your LinkedIn profile. Send hundreds of LinkedIn requests per month vs Kennected's limitations.
LinkedFusion is a powerful and safest alternative to Kennected to generate leads from LinkedIn. It is an advanced LinkedIn automation tool which helps to accelerate sales and revenue automatically with the most advanced sales sequences, more detailed graphical reporting, team management, Safety usage limits and various other features.
The safest Alternative to Kennected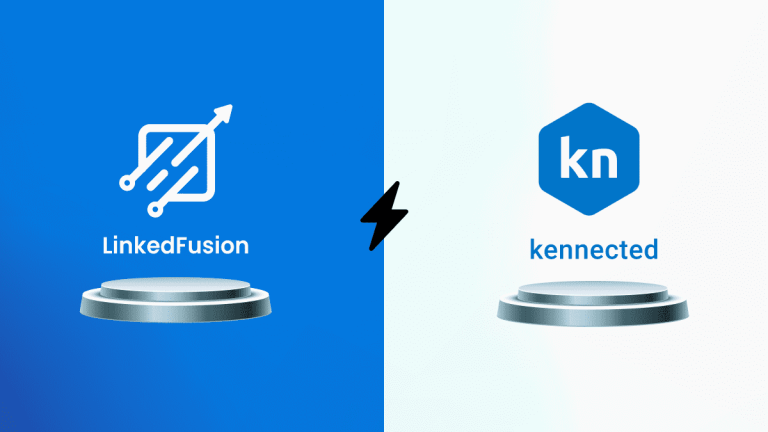 LinkedFusion's LinkedIn automation tool helps businesses to bring connections, sales, and appointments from their customers. It approaches your prospects with a personalized message which takes care of every unique need. Personalized messages ensure a higher acceptance rate.
More than that LinkedFusion offers additional valuable features and support that Kennected does not.
Kennected lets users automate their LinkedIn outreach and sales efforts with an active Sales Navigator account or LinkedIn premium which leads to additional cost for a business. Once you have successfully activated your Kennected account, you can then search for your ideal customers. You will be able to check your improved response rates and save time with your LinkedIn and cold email outreach seamlessly.
But You cannot use a free trial version of Kennected before you actually subscribe for the tool. Whereas LinkedFusion offers 7 days free trial and a very quick 24/7 customer support.
Integration with Most CRMs
LinkedFusion provides native integration with most CRM tools unlike Kennected. Not only CRM, with the help of email finder tools, you will be able to find Business emails with ease and add a layer of personalization for your contacts. LinkedFusion 's Integration with FindThatLead, Hunter.io, Anymail Finder, etc. makes it easy to find email right inside the LinkedIn interface and let you push this data to HubSpot easily.
At LinkedFusion, you don't need to worry about help and support. We offer support via a dedicated account manager where our team provides important advice to take your LinkedIn account automation campaigns to the advanced level.
No need to wait for a support agent to reply for days. We will get you up and running within minutes.
LinkedFusion is easy to use and optimized for your LinkedIn outreach to get better results. You can write intuitive LinkedIn connection messages and take your sales outreach to the next level. Advanced analytics dashboard and user-friendly autopilot feature allows you to get started easily.
You can connect a Zapier account and integrate with enterprise level apps to be able to create a responsive sales pipeline.
LinkedFusion - All In One LinkedIn Automation Platform
LinkedFusion's LinkedIn automation tool helps businesses to bring connections, sales, and appointments from their customers. LinkedFusion approaches customers with a personalized message which takes care of each customer's unique needs. Personalized messages ensure a higher acceptance rate.
LinkedFusion automates all the time-consuming and labor work of prospecting with the use of its various advanced personalization features.
Data-Rich Search Feature
Create filters to find ideal target customers.
Cloud Based
It runs 24/7, even when your system is turned off.
Send Automated & Personalized Messages
Ensure a higher acceptance rate.
Response Tab
Check responses from users, view profiles, and access current conversations.
Team Management​
Manage a team & their pipeline for more efficient results & not duplicating a connection request by blacklist feature.
Safety Usage Limits​
Manage the targeted audience to ensure your LinkedIn account is within their commercial limits.
In-Depth Analytics
& Dashboard
Monitor your progress, get graphical insights on campaign performance to make savvy decisions.
Integrations​
Integrate your workflow with your preferred CRM tools to make the most out of it, allowing you to focus on more important tasks.
Customer Service
We believe in making users the hero of our story. So we provide 24/7 technical support.
LinkedFusion vs Kennected
| | | |
| --- | --- | --- |
| | | |
| | | |
| | | |
| | | |
| Google Sheets Native Integration (without zapier native) | | |
| | | |
| Max number of invites/day | | |
| Compatible with LinkedIn sales navigator | | |
| | | |
| | | |
| | | |
| | | |
| | | |
| A personalized automated connection message | | |
| | | |
| Automated cancellation request | | |
| | | |
LinkedFusion vs other Alternatives
Generate more leads easily with LinkedFusion
LinkedFusion is built to grow and improve engagements, spark real conversations, and drive more revenue. Connect with prospects more efficiently and create custom outreach campaigns to start new conversations with potential leads with our powerful tool today! Break the limitations for your marketing team by giving them a cloud-based LinkedIn and email marketing tool compared to Kennected's.
Make lead generation and sales funnel easy with LinkedFusion.