If you want to use the LinkedIn platform to advance your career, generate leads, and increase your cold outreach then optimizing your LinkedIn profile is crucial. In this blog, we'll start with the fundamentals before learning about the best techniques for optimizing your LinkedIn profile. LinkedIn has over 930M+ members, 63M+ listed companies. So, there is no doubt about the benefits of optimizing the LinkedIn profile. With so much going on, it's more important to use LinkedIn to your benefit, it's a great way if you are looking for a job or trying to build a professional community on LinkedIn. These LinkedIn profile optimization tips will help you rank better on LinkedIn SEO, build personal brand on LinkedIn, and get your LinkedIn account more views!
If you believe that you have optimized your LinkedIn profile to stand out, think again. I would insist that you take another short look at the subject. Many people believe that maintaining a professional image on their LinkedIn page will work wonders for them. But that's incorrect! A LinkedIn profile that is optimized for you will work for you and provide the desired outcome, whether that outcome is establishing your brand, acquiring clients, or getting your ideal position.
We've listed several best practices that can help you improve your basic LinkedIn profile in the sections below.
Customize your LinkedIn Profile URL:
Do you know what your LinkedIn URL looks like?
You could be tempted to omit the URL because it seems like such a minor component of profile optimization. But you ought to resist these enticements. It takes only a few minutes to edit when compared to the impression that you create on your client, and here's how you can do it:
Under the profile section Go to "View Profile"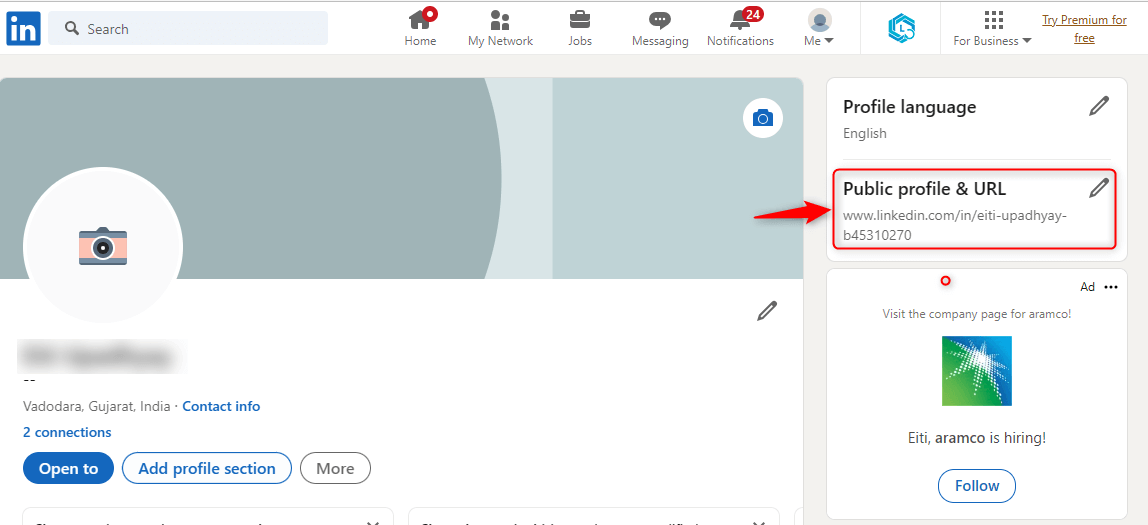 Then Press "Edit your custom URL" and then set your personalized URL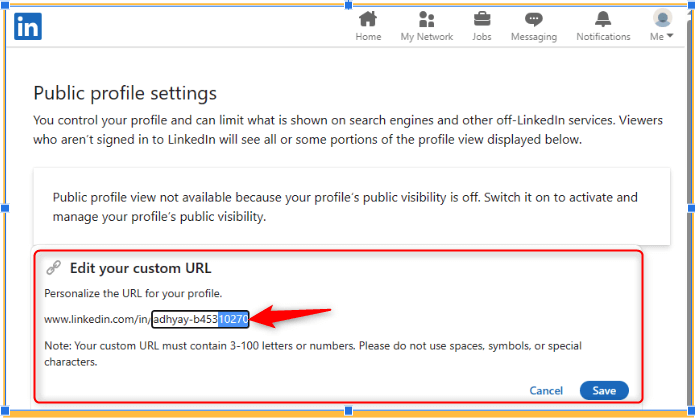 LinkedIn Background Photo:

The wide image on the top of the profile should stand out! Your background banner is the first thing people will come across when they view your profile. The recommended cover photo size is 800 x 200px for LinkedIn profile cover image. Although you can zoom, crop, and adjust your background photo, it's important to note that your cover photo and the text are visible.

It is advisable to use a custom cover photo. The following are elements that your can your background photo can have:

The solution you offer and your USP (Unique Selling Proposition)
Reasons why prospects should connect to you.
The testimonials or brands that you have worked with
Your photograph

These are some additional things that your LinkedIn should have. Remember that your background picture should motivate your prospects or lead them to know you more.
LinkedIn Profile Picture & Profile Look:

It's a general fact that people want to connect with you if they trust you. And your profile picture for LinkedIn, just like your background picture, acts as one that creates the first impression. You might things that it's not a very significant part of your profile, but still, you should take it seriously:

Your profile picture should reflect that you are a friendly and warm person with whom people can connect.
Your background picture should have a working environment, indicating your authority.
In addition to the points mentioned above, you should check custom background, drawn or digital illustration, customer image outline and more. The ideal size of the LinkedIn profile photo should be 400 x 400px.
LinkedIn Profile Headline:

Your profile heading is a description of the services that you provide. This will improve your general working on the LinkedIn profile. Your text should have more than just your job position to make it more exciting and engaging. Please provide critical benefits your prospects get if they choose your solution or work with you.

The formula for writing the perfect profile headline with example goes something like this:

If You Are a Marketer Working in a Firm Writing Blogs.


Example – Content writer at XYZ company – writing a blog that ranks on search engines.

Formula – [(Title) at (Company) – Helping (use)]

If You Are Someone Who Helps Your Prospects Build a Personal Brand.


Example – Organic growth specialist I Generate (x) number of views on social media l Trained x number of people for XYZ company.

Formula – (Title) l USP I Achievement

If You Are a Founder That Helps People with Investment.


Example – Founder @ Wisdom Hatch l Building India's Biggest Investment Community.

Formula – (Title + Company + Keywords related to your roles)

These are some examples of how you can write a perfect profile headline. This is an important thing as people will find your profile with this headings only.
Make Your Profile Summary Interesting:
A LinkedIn summary is a brief about yourself and your accomplishments. If someone is reading your resume, they are looking for a solution you have to offer. Therefore, you must write a summary that targets your Ideal Customer.Here's what you should include in your summary section:

1) An attention-grabbing hook to get the attention of the prospects and know more about you. Things are:
2) Who are you?
3) What is your unique selling price?
4) Work results and what you've accomplished in your professional and personal life.
5) Your stand on global issues or your value.
6) Some detail about your background.
7) What is your ICP (ideal customer person) that you provide service to?
8) Merits of working with you.
Write an example:
Example: "About" section of a content writer.
One of the best ways to write the LinkedIn "About" section text is by looking at the profile of experts that follow these tips for writing the About section.
LinkedIn Work experiences and Education

Your work experience should be more comprehensive than the years of your knowledge but also the results you have generated. Example: If you are a marketer, it should mention the number of clients you have gained, for instance, :0 – 22k followers in three months.

Here's what you should include in your summary section:

Mention your accomplishments and your KPIs instead of your day-to-day. Responsibilities.
Education: Mention your education qualification like:

1) University name
2) Educational program name
3) Relevant achievement and accomplishment




If you do not work in the related field as per your education, present how your skills are transferable and help you in your current profession.
9 Ways to Improve Your Profile For Visibility on LinkedIn Search
Now that we have discussed ways in which you can optimize different sections of your profile, let's explore some times and best practices that you can use to optimize your LinkedIn profile.
1) Use Free Tools to Optimize the Profile:
Using the optimization tools that analyze your LinkedIn profile as these tools analyze your LinkedIn profile comprehensively. LinkedFusion's LinkedIn Profile Checker helps you with this. The free device will enable you to explore your profile from top to bottom.
2) Complete Your Profile:
When optimizing your profile, your profile must be complete, as that is the primary requirement to maximize your profile blog. Ensure that the crucial section, like the summary, LinkedIn headline, work experience and education, is completed.
3) Update Your Profile:
If you don't update your profile for two years, then your profile is of no use as it will not be considered complete. Things like your current location, current job, and any new license or certificates if you have completed any. This will help your prospect to trace you on the LinkedIn platform and, at the same time, get you relevant clients.
4) Your LinkedIn Profile Should Match Your Resume:
This is yet another crucial piece of advice if you're utilizing LinkedIn to look for a new job. Choose the resume that best summarizes your entire skill set if you're applying for multiple positions with different versions of your resume, which you should be doing. Make sure your LinkedIn profile also has the same information.
5) Refers Your Skill:
A LinkedIn profile might succeed or fail depending on its skill set. Below are some points that will helps you present your skill set:
What to do is as Follows:
Your headline, synopsis, and job titles should all contain words in your profile. These may make easier for recruiters use LinkedIn to find you on the platform.
Include the fundamental abilities that are most important to your field and job.
Use the LinkedIn talents area to highlight your hard skills quickly.
What Not to Do Is as Follows:
Including skills like email or Microsoft Word, which are expected of all job candidates, is not recommended.
Remove any skills that don't fit your overall profile or that you are only somewhat proficient in.
Use LinkedIn skills evaluations to indicate technical capabilities, but if you want to demonstrate your abilities, link to a GitHub profile or portfolio.
6) Use the Relevant Keyword of Your Profile
Include pertinent keywords while you write your summary and other portions of your LinkedIn profile. One of the most crucial best practices for a LinkedIn profile is the appropriate use of keywords. LinkedIn Search results, job descriptions with available openings in your field that interest you to choose the best keywords for your personal profile. Make sure to use those particular words and phrases throughout your profile text. Pick out some of the most frequently mentioned responsibilities and skills.
7) Use Video and Other Visual Content
Did you know that, like Twitter and Facebook, LinkedIn allows you to add a background image? Choose a theme that reflects your job or personality because it's easy to do and helps your LinkedIn profile stand out. If you are a job seeker, having visually appealing content will help you gain ranks with search engine optimization practices as well.
You can also link various types of media to your profile on LinkedIn, like infographics and YouTube videos. Make your page pop off the screen and demand attention using inventive techniques and pertinent media.
8) Send Connect Request:
Even though it appears essential, it can be simple to overlook how crucial it is to concentrate on your network of contacts. LinkedIn's system is such that you should continuously expand your network and interact with new people; this increases your visibility when you appear in the recommendation of the first, second, and third connection.
You can do this by sending connection requests to strangers, but you should connect with people you know or have interacted with professionally. In case you want to connect with someone you don't know before sending them a LinkedIn message. Your message should state why you are and want to communicate with them. Maximizing on LinkedIn Connect will present you with new opportunities.
9) Be Active on the Page:
There will be groups discussing your professional interests, from marketing to accounting. Join one or two, then engage in conversation there. It's a fantastic method to network and exchange ideas.
Posting valuable and educational content regularly is a beautiful strategy to stay active on LinkedIn. The information you submit will be the most efficient approach to developing that knowledge. Your goal should be to use your LinkedIn profile to advertise yourself as an authority in your subject. Keep up with new advancements in your field, and post them on your profile page with relevant hashtags. Recruiters and people looking for you on social media frequently use pertinent hashtags in their searches.
One Bonus Point for LinkedIn Profile optimization:
10) Keep Track of Your Profile Strength:
The right-hand side of your current profile has a gauge that measures your "Profile Strength" and displays the results. This informs you of how well you've completed your profile. Continue to add more and follow the advice on the website until the gauge deems you an "All-Star." It's straightforward, but I can show you if you need to include anything. To know which critical section needs updating, use LinkedIn Profile Checker to optimize your profile.
Some Tip to Increase Your LinkedIn Followers
Now that we have discussed ways in which you can optimize different sections of your profile, let's explore some times and best practices that you can use to optimize your LinkedIn profile.
Make Your Page LinkedIn SEO Friendly:

A company unit, initiative, or sub-brand can be highlighted with the help of LinkedIn Showcase Pages, an attached extension.

Your brand may be discovered more readily if you create and maintain one.

Include a "Follow" Button:

You can convert website visitors into followers by including a Follow button. Consider using a solid call to action, such as, "If you like this content, you'll love what we offer on our LinkedIn Page!" or "Did that interest you? To learn more, visit our LinkedIn page!

Follow Popular Group:

You can learn about various viewpoints and get insights by joining well-known and pertinent groups. Doing so lets you know about your sector and discover fresh networking means.

Give Your Profile a Professional Look:

Making frequent changes, posting intriguing information, and high-quality images will help your profile look more professional. You may encourage more visitors to follow your website by doing this.

Segment Your Content Based on Your LinkedIn Page Analyses:

LinkedIn provides Page administrators with in-depth insights, including engagement and demographic data. You may determine what resonates with your audience and provide material your visitors are interested in using this insightful data.

Constantly Engage with Your Viewers:

LinkedIn communities often include incredibly passionate and educational discussions about specialized subjects. Participation by you or your coworkers in these groups promotes brand awareness while establishing authority.

Send Invitations to Follow Your Company Page

LinkedIn provides 100 credits for Company Pages each month. As a result, once an invitation is sent, the distinction is lost. However, you get your credit back if the individual accepts your invitation. Additionally, you may invite your fans to follow your business page by sending them highly personalized messages.

Be More Active on LinkedIn by Regularly Posting Content:

Once you have a following, you must keep them interested in your material by providing helpful information. So make a schedule to guarantee a consistent supply of new, high-quality content. By doing this, you'll gain more visibility on members' pages and draw more followers.

Share Video and Visual Content:

You can create a group page that draws LinkedIn members in by incorporating eye-catching images into your material. Your brand will stand out more on LinkedIn feeds with unique photographs and captivating videos.

Customized image collages increase engagement, so submit photos from your most recent conferences, webinars, or meetings.

Include Community Hashtags:

LinkedIn allows you to add three hashtags per post. The website notifies you of the trending posts using the hashtags from your community after you add them. As a result, be sure to use pertinent hashtags and leave comments on popular posts to draw in your target audience.

You can add hashtags to your LinkedIn profile by going to your company page. This is how:

Use the 'Community Hashtags' button on the right-hand side to navigate.
Edit it to add hashtags for your sector or target market.
Daily alerts about the most popular posts

Study Your Competitors Page:

Competitor analysis is crucial to expand your LinkedIn network, just like it is for any other digital marketing approach. To find out what they need, look at what other brands do on LinkedIn. Find the empty area and fill it with original material that no one else can provide your audience.

Make Showcase Page:

A company unit, initiative, or sub-brand can be highlighted with the help of LinkedIn Showcase Pages, an attached extension. Your brand may be discovered more readily if you create and maintain one.
Optimize your LinkedIn Profile to Get Benefits:
To build a compelling brand, your brand must stand out, and at the same time, it should be marketable. Social media platforms like LinkedIn present you with an effective technology that lets you get your name out there.
It's not a hidden fact that most recruiters and hiring managers use LinkedIn for hiring for positions. Therefore, if you have a good rank on LinkedIn, then the chances of your visibility increase in the eyes of the recruiters.
These actionable tips will help you while you are searching for a new job. You can rank higher in
LinkedIn searches with this LinkedIn optimization tool.
LinkedIn, as a social networking platform for working professionals, helps them to network with like-minded people.
Keeps you updated with the latest news and industry trends. It's an excellent way to engage with people and share your thoughts and opinions on relevant topics about your industry. Some of the critical works that would define this are authentic, current, compelling and well-proven. You will also be able to find the top-voices and important LinkedIn profiles in your industry.
Ways in Which You Can Enhance Your LinkedIn Outreach With LinkedFusion:
LinkedFusion is a LinkedIn outreach tool that helps you to drive up your sales by:
Connect with your target audiences: Interact with your prospect and build strong relationships with them.
Consistent follow-up with your prospects and leads to keep them in the loop.
Export the data of your leads and prospects with the native integration and automate your data entry work. This will help you stay up to date with your B2B client.

Building a strong LinkedIn presence is easier than it may seem. The process takes a while, but the outcome is worthwhile. As a result, I get to work on fresh concepts and connect them to produce a captivating LinkedIn profile. Once you've finished the process, you'll have a stunning shape that can attract attention and provide several advantages.
Once you update your LinkedIn profile, you can simply automate your LinkedIn outreach with the help of LinkedFusion and grow your LinkedIn network and SSI, connections, and build new revenue streams on LinkedIn. Hope these tips and tricks will help you gain more profile visitors and taka your LinkedIn profile to the next level. Adding details in your profile with relevant information will help people viewing your profile as well.