It's not always enough to stand out on LinkedIn just by having a beautiful CV. Therefore, one of the best ways to stand out on this professional social network is to add a LinkedIn portfolio to your profile. At the same time, it's also crucial to have a LinkedIn profile that is thoroughly optimized as well! 
The portfolio of your works should be presented in a way that is visually appealing so that upon first glance of your LinkedIn profile, potential clients or employers will understand what you do and how you can help them. A portfolio is a striking collection of written and visual representations of your abilities, background, training, and experiences. Your ability to organize information and communicate with others in a clear, attractive manner is demonstrated by the inclusion of relevant experiences and abilities. Employees can learn more about your work ethic, skill set, and personality through this.
You can incorporate a variety of content types in your portfolio, as was already mentioned. Your achievements and/or career will, however, be a major factor in this. Because there are hundreds of others with the same job title, think about what makes you unique. Here are things that are usually present in a portfolio.
A brief about yourself: Start by including a quick note saying that the portfolio contains only your work and should not be copied.

Career Goal: Talk about your career aspirations for the ensuing five years.

Resume: Describe your views about your industry and skill set in writing.

Sample of your work: Include a summary of your education, training, and talents.
What is a LinkedIn portfolio?
A LinkedIn portfolio is a novel yet powerful approach to present your education, experience, and talents in an appealing way. It helps potential coworkers, employers, or clients learn more about what you do, how well you do it, and how you might help them.
Your LinkedIn profile should have interesting and compelling material. You could include latest updates, previous experiences, upcoming goals, accomplishments, etc.
In your LinkedIn Portfolio, you ought to attach examples of your work. By doing this, hiring managers and employers can evaluate your functional effectiveness when they visit your profile.
How can you add a portfolio on your LinkedIn profile?
Your profile's "featured" section corresponds to your LinkedIn portfolio. You can include samples of your work in this section so that people who read your profile can look through your portfolio and quickly learn more about what you do. Your portfolio should demonstrate your work if your CV doesn't already.
There, you can share any kind of content, including presentations, online links, photographs, and videos. Now, to update your LinkedIn portfolio and add pieces of your work, here's what you have to do:
1) Go to your LinkedIn profile and click on the "Add section" button.


2) Go to the "Recommended" section and click on the "Add featured" button.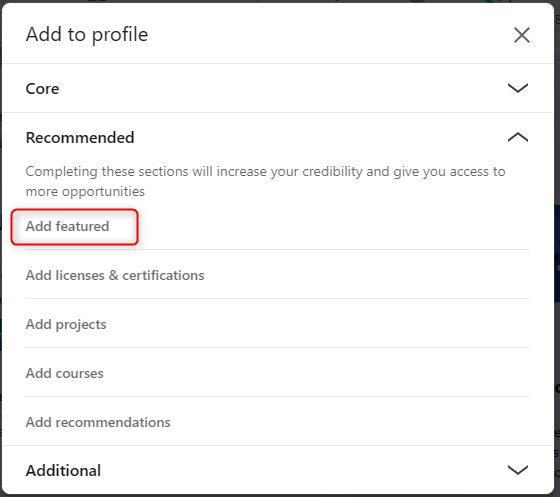 3) Once you are on the feature you will see a drop down where you have the option to add a link, media and post to your profile picture.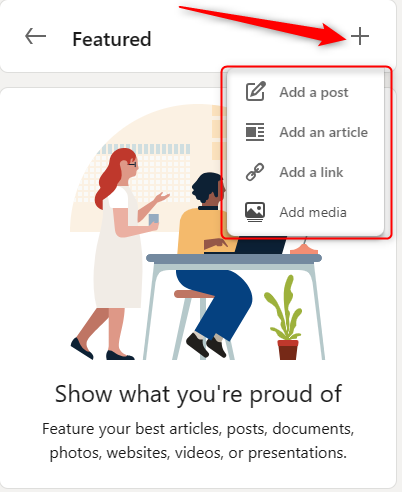 LinkedIn portfolio to your profile [Example + Best practice]
LinkedIn's portfolio is a digital portfolio that presents you with the opportunity to demonstrate your skills. Adding a portfolio to your LinkedIn profile will help you stand out from the crowd. You should create a portfolio on LinkedIn to showcase your work. There are various types of content that you can add to your professional portfolio, like posts, links, case studies, and more. It's also essential to make sure that your portfolio has visual content, as it makes your portfolio more appealing. If you are not sure what you can post on your LinkedIn portfolio, then here are some examples and best practices for creating your profile.
1) Provide value to your customer
While using LinkedIn's featured section to display your work and skills, this might not be a strong indicator for your profile viewer to click on your portfolio. So, make sure to add value for the people who view your portfolio. As you can see in the post below, the articles added to the portfolio not only portray the work done by the person but also give insight on topics like navigating economic tides. Finding the balance between showcasing your authority and giving value might get you more clicks on your profile.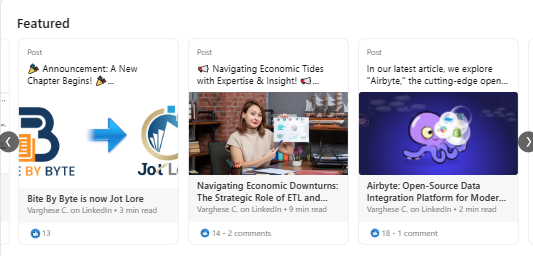 While displaying your work in your LinkedIn portfolio make sure that your online portfolio is optimized. In the portfolio below you can see that there is no visual or images added. This acts as a disincentive for the people seeing your profile.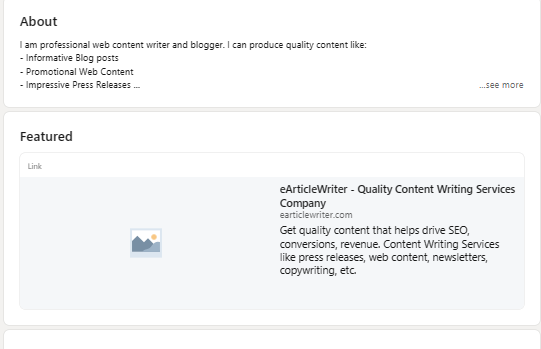 2) Use visuals
You should grab a prospect's attention and reassure them they are in the proper place when they visit your LinkedIn page. To achieve this, highlight your most important work and display it in your Featured area. Before you add an image to your LinkedIn post make sure it is easily recognizable and fits with your logo. People on LinkedIn primarily trust other people, more than corporations and companies.
Therefore, if you want to come off as more genuine and human, it's a good idea to highlight your personal branding.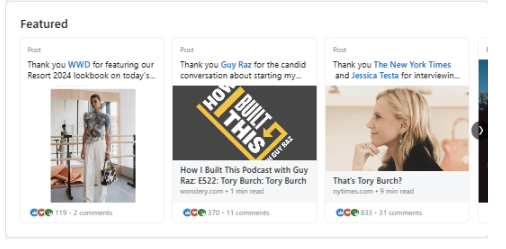 3) Share your viral post
Sharing posts, websites or blogs in your portfolio content gives insight into your work. Including it in your LinkedIn portfolio is one method to keep bringing traffic and engagement to some of your best content.
Think about doing this with your best content, which has had the most engagement, gone viral, or is merely a fan favorite with your target demographic. even if it isn't directly related to your line of work. In this way, even if the majority of your network has already seen it, those posts will continue to receive engagement as long as people visit your profile.
If you're consistently networking with more individuals in your niche, this tactic also works really well.
When someone connects with you, they can immediately determine from your profile what some of your values are and what kind of content they may anticipate from you in the future.
Additionally, if your old post begins to receive engagement once more, the LinkedIn algorithm bump could cause it to go viral.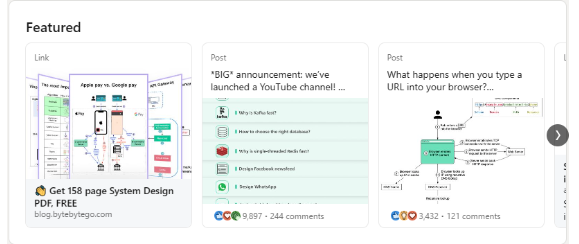 4) Use automation to create LinkedIn lead magnets
Do you want your LinkedIn profile to generate more leads?
To send them a customized marketing funnel, try using an automation tool to export them from LinkedIn to your CRM.
Additionally, think about offering case studies or guidelines that direct site visitors can get in exchange for their email addresses.
This way you can reach out to the potential employers and showcase your skills.
Whether you are a freelancer or an entrepreneur, adding samples of your work might work best for you. People landing on your profile might be interested in your work and your portfolio allows them to see your work & expertise.
Some additional tips:
Here are some other pointers to keep in mind when promoting your LinkedIn portfolio:
You can modify, delete, and reorder the items in your LinkedIn portfolio thanks to LinkedIn. The icons can also be moved about by clicking and dragging them after hovering over them.

Consider sharing PDFs if you're utilizing Google Drive to expand your LinkedIn portfolio.

Share relevant screenshots, photographs, infographics, links, and content that establishes your authority to make sure your gallery preview is eye-catching.
It's important to remember here that only your first-degree connection can access your LinkedIn portfolio.
What is the difference between a profile and a portfolio?
People who view your profile anticipate it to be organized in a particular way. Why? Since it makes it simpler for them to swiftly review. As a result, you want your LinkedIn profile to be unbiased and simple to read. According to studies, recruiters only skim profiles for 6 to 13 seconds to determine your fit. Hence, the objective is to streamline the profile for quick scanning, allowing users to swiftly find the information they require.
Your resume serves as a concise overview of your education, work history, and achievements.
And your portfolio has the collection of your work. A candidate for a job who possesses both a CV and a portfolio is more likely to be successful than someone who only has one or the other.
An active resume is more like a portfolio. The layout and content of a portfolio give the impression that it is special. It has more individuality, which engages the audience and keeps their interest. Because portfolios provide more in-depth information about your professional achievement, people spend more time going over them. Even better, you have the freedom to decide what information about yourself you include in your portfolio, which makes it simpler for you to market your skill sets.
What Should you add to your portfolio to your LinkedIn Profile?
A LinkedIn portfolio is a novel yet powerful approach to present your education, experience, and talents in an appealing way. It aids prospective colleagues, employers, or clients in comprehending your role, assessing your proficiency, and determining how you can be valuable to them.
If you're uncertain about what to include in your LinkedIn portfolio, here are some alternative recommendations:
Recommendation letter.
Client success and public endorsement.

Samples of work.

An introduction film for you and your business.

A condensed version (or PDF version) of your resume.

Your accomplishments and skills in an infographic.

Components of personal branding to establish connection and come across as relatable.

Following actions that a potential client who visits your profile can take, such as getting in touch with you, visiting your calendar for a free consultation, clicking a lead magnet link, etc.
How much content can you add in your LinkedIn portfolio?
To your LinkedIn profile, you can add an infinite number of files or links! This implies that you can create and maintain a portfolio that grows as your career develops. 
In general, you should add 2–5 items to your LinkedIn portfolio to fill out the space and offer readers a rough idea of who you are, your skills, your brand, etc.
Additionally, employ a variety of content kinds, such as highlighted articles, video presentations, links to your portfolio website, and so forth, to catch the attention of your target audience and aim to present a diversified portfolio of your work.
It makes no difference whether you're promoting yourself, offering something for nothing, or citing intriguing facts.
Based on the discussion in this post, you might have gathered that your LinkedIn portfolio can encompass a variety of elements.
If you're uncertain about where to begin, aim for a harmonious blend of content that showcases your expertise and materials that are both informative and practical. This should help you get leads and active followers.
After you've connected your portfolio to your LinkedIn account, you can start outreach and step up your prospecting efforts to promote your best work and properly optimize both your profile and your professional pages.