Are you ready to supercharge your business growth through lead generation? We're about to take a deep dive into the process that turns curious prospects into a purchasing customer. And let's be real, finding opportunities in the B2B universe is like hitting the jackpot of digital gold.
There's where the best B2B lead generation tool and services come onto the scene, armed with strategies that can transform your lead game into a lead-winning touchdown. Whether you're a rookie, just dipping your toes in the lead-gen pool, or a seasoned pro who can talk qualified leads in their sleep, we've got you covered. From identifying qualified leads, mastering the art of lead management, conquering the LinkedIn lead generation maze, to nurturing those valuable prospects – we will discuss everything in the blog below.
 Let's explore how to weave connections that truly count. We're not just talking about selling products and services here; we're diving into the art of crafting connections that stand the test of time. Ready to rev up your engines for this lead-fueled adventure? Let's roll!
Lead generation is the process of identifying potential leads and prospects who have the highest possibility of becoming interested in the solutions your organization has to offer. There are many lead gen software that help you optimize your lead generation efforts to increase your lead conversion rate. These tool offer lead generation software that provide you services that include:
1) Export of lead information
2) Data and lead nurturing assistance
3) Features to run lead gen campaigns
4) Sales lead management services to help businesses
Lead generation solution offers a wide range of services that enables you to cut cost per lead that works best for small businesses with limited resources. It's not easy to generate leads without accurate lead research. These lead generating agencies help you target leads and create a lead list by identifying people who are in need of the product or service that you have to offer.
How to Do B2B Lead Generation?
Before the pandemic face-to-face prospecting was considered a norm. Sales rep traveled a long distance to meet their prospect. But after the pandemic the norms have changed. It is estimated that over 70% of B2B clients prefer remote human interactions or digital self-service.  Following are the new trends that will get you more b2b leads into your sales pipeline.
1) A/B Test Your Email Campaign 
There is no secret formula that will guarantee the response of your prospect. You have to find that mix by experimenting with the different kinds of data. A/B testing can help you with that, you can test two different types of variants. The variants that work best can be used for your entire campaign.
You can also increase the precision of your campaign by using the A/B flow testing that will help you to run different versions of campaigns with precision.
2) Create Content That Caters the Curiosity of Target Audiences
Generating traffic using content creation takes time and patience as it might take months before you see the result. As inbound lead generation is effective but requires time for results. Another important aspect of content creation is to make a content strategy that correctly addresses your target audiences' needs.
For instance, due to the low number of monthly searches for its target term, Snack Nation, a provider of office snacks, was unable to grow B2B sales leads through SEO. They penned a lengthy article on "employee wellness" in an effort to draw in more readers, including their target B2B clients. Their intended market uses this wider search term. In order to ensure that the content was actually "epic" and would draw leads, they took great care when crafting it.
Results of the article on workplace wellness:
Snack Nation outperformed competitors by incorporating 121 recommendations for "staff wellbeing." They included additional contributions from various subject-matter specialists. They also made a concerted outreach attempt to influencers to entice them to share their posts.
3)  Build Trust by Showing Customer Response 
Social proof is a key element of the majority B2B lead generation strategies. Customers may be dubious of claims made about your product or service, therefore they may look for social proof to help them make better educated selections.
The more social proof you can gather for your website, the easier it will be to develop trust and increase sales.
As additional methods to build credibility, think about incorporating social proof on your website and landing pages, sharing positive G2 Crowd ratings on social media, and creating case studies.
4) Offer Free Trail and Tools to Your Users
A free CRM is provided by HubSpot.
Free Heatmap software is provided by Crazy Egg.
Offering free SEO analytics reports is what Uber suggests.
Seen a pattern here?
One of the most effective B2B lead generation techniques I've seen is a free tool, especially for SaaS and tech organizations.
Free tools are effective for generating B2B leads because they let potential customers "try before they buy."
It provides you with a strong opt-in offer that pulls top-notch leads into your sales funnel.
At Leadfeeder, we employed this exact strategy in the beginning to encourage users to locate and recommend leads to us. We still provide free trials now because it has been working so well!
You can also see 11 steps for setting up a lead generating strategy for your tech business here.
5) Be a Thought Leader in Your Niches
When you offer valuable information their trust on our brand increases. You can do this by creating a group on LinkedIn and answering questions on Quora. There most of the content writer faces two challenges:
Identifying the content that the buyers are asking.

Getting the attention of their target audiences.
Let's see how writer Nicolas Cole solved this problem:
Writer Nicolas Cole established a devoted audience and a strong reputation on Quora by responding to queries with thorough and oftentimes intimate responses.
He soared the growth of his seven-figure content agency, Digital Press, within a few years as a result of his answers on Quora.
On Quora, locate your customers, respond to their inquiries, include a link to your material, and make money.
Top Lead Generation Tools and Software
The market for a lead generation tool that provides best lead generation services offers a wide range of software with features that cater multiple needs of the users. Due to multiple options present in the market, identifying the best lead generation tool to outsource lead generation can be tiring.
So, we have selected some of the lead generation software offered by some of the best lead generation firms who have good experience in b2b lead generation. Here is the list of the best lead generation agencies for you:
SendBuzz is a sales engagement platform that lets you enable sales reps and marketers optimize their outreach campaign by eliminating repetitive and manual tasks. The feature of this platform is designed to help its user to create more lead generation opportunities. Let's see some of the features offered by this b2b lead gen platform:
Flow and A/B testing

: With flow testing you can reach out to your prospect with the best mix of sequences to engage with them where they are present. And with the A/B testing you can run campaigns with different variations of emails to get the best message to the audiences. 

Inbox rotation

: You can send emails to the prospect using multiple emails in the same campaign. This helps you save time and protect your email reputation.

Unified Inbox

: When you receive 100 if emails in a day it is very taxing to reply to leads going to different inboxes. But with the unified inbox you can achieve this. This feature enables you to reply to your leads using single inboxes.

Custom Tracking Domain

: We are aware that sales teams give sales analytics a high strategic significance. As a result, we give you accessible, current information in one place by combining with many sales tools. By recognizing risks, noticing patterns, and spotting opportunities, you can gain better visibility into your sales pipeline and performance. Keep tabs on opportunity phases, scheduled meetings, prospect status, and task accomplishment as well as sales cycle statistics. Analyze every sales call.

Lead Scoring: With lead scoring, you may give your leads different values depending on predetermined standards, allowing you to focus on high-value deals.  Algorithms are used in automated lead scoring data to determine lead scores based on numerous parameters. To find trends and patterns, it might make use of historical data and analytics. With the lead scoring data and lead nurturing the sales engagement is more accurate in finding new leads. With these features you can set up the right lead generation process that makes your online lead generation successful.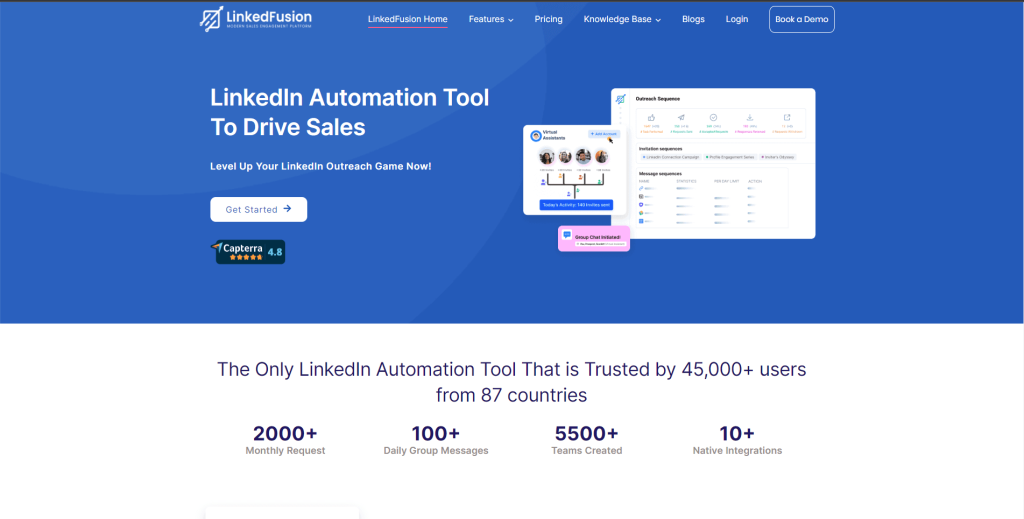 If you are looking for an outbound lead generation platform that helps your different lead from a bigger pool of audience, then LinkedIn outreach is the solution for you. Many lead generator agencies offer tools that lets you boost your sales pipeline with new leads and improve your b2b contacts.
The goal of LinkedFusion's LinkedIn automation solution is to provide its users with a constant flow of new connections, sales appointments, and networks. The numerous features guarantee a personalized and automatic networking experience by taking the guesswork out of it.
Features offered by LinkedFusion are:
Effectively Manage Your Team

: The software enables the user to manage a team as well as work independently. By avoiding contacting prospects who are already in the team's sales funnel, you may successfully manage a team and their sales pipeline by using blacklist leads.

Maintain The Safe Commercial Limit

: By controlling the target audience and keeping your LinkedIn account inside their safety commercial limit, LinkedFusion maintains the security of your account.

Ensures Smooth Integration

: You may quicken your LinkedIn outreach initiatives by integrating with the CRM of your choosing. You may concentrate on the task that involves serving customers with LinkedInFusion.

Make data-driven decisions

: By keeping track of your progress and obtaining graphical representations of the insights on the effectiveness of your campaigns.

24/7 assistance for the user: Quicken your onboarding into the LinkedFusion solution with the help of the technical support staff. The LinkedFusion customer support staff is renowned for being extremely helpful.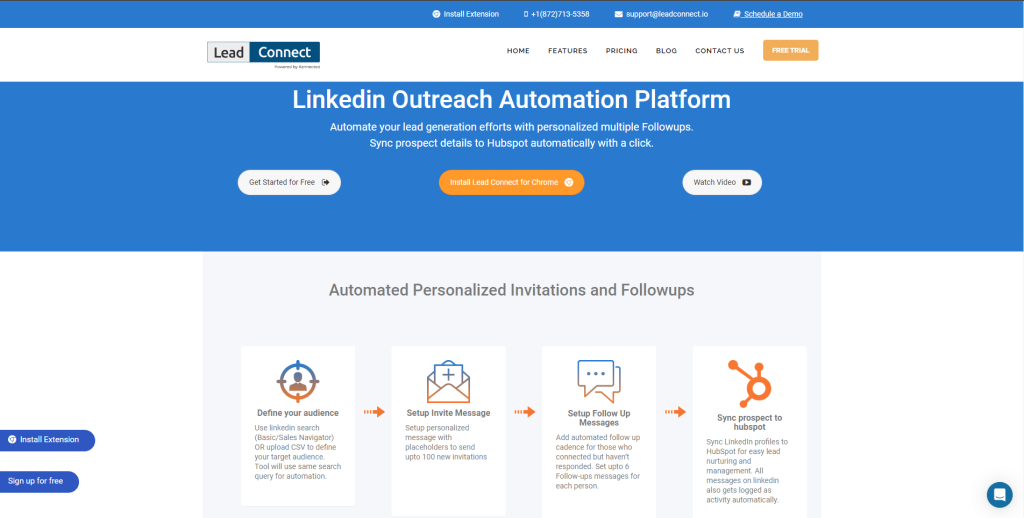 Lead Connect is a LinkedIn Outreach Automation Platform that streamlines your lead generating processes by giving you access to automated native Hubspot integration and personalized multiple follow-ups.
Personalize Your Outreach

: Use placeholders to make your message more specific and send up to 100 additional invitations. You can also programme up to 6 follow-up messages for prospects who have connected with you but have not yet replied. You can avoid sending inquiries to prospects who you have previously connected with by using the Blacklist functionality.

Target Your Audience

: To identify your target market, use the basic LinkedIn search function, sales navigator, or CSV. Connect with your prospect by using an automatic follow-up that looks and feels manual. By using this automatic method rather than personally following up, you will receive 10 times more responses.

Improve Your Sales Engagement

: By utilizing the information and data acquired from the sales process, improve your camping's. Users can efficiently plan, deploy, and manage campaigns with the use of these data-driven insights. With the help of Auto Sequences, users can contact an unlimited number of prospects each day with personalized messages, producing a steady income.

Be Available to Customers: Reply detection alerts you to new LinkedIn message activity and instantly halts automated follow-up whenever the user receives a response from recipients or prospects.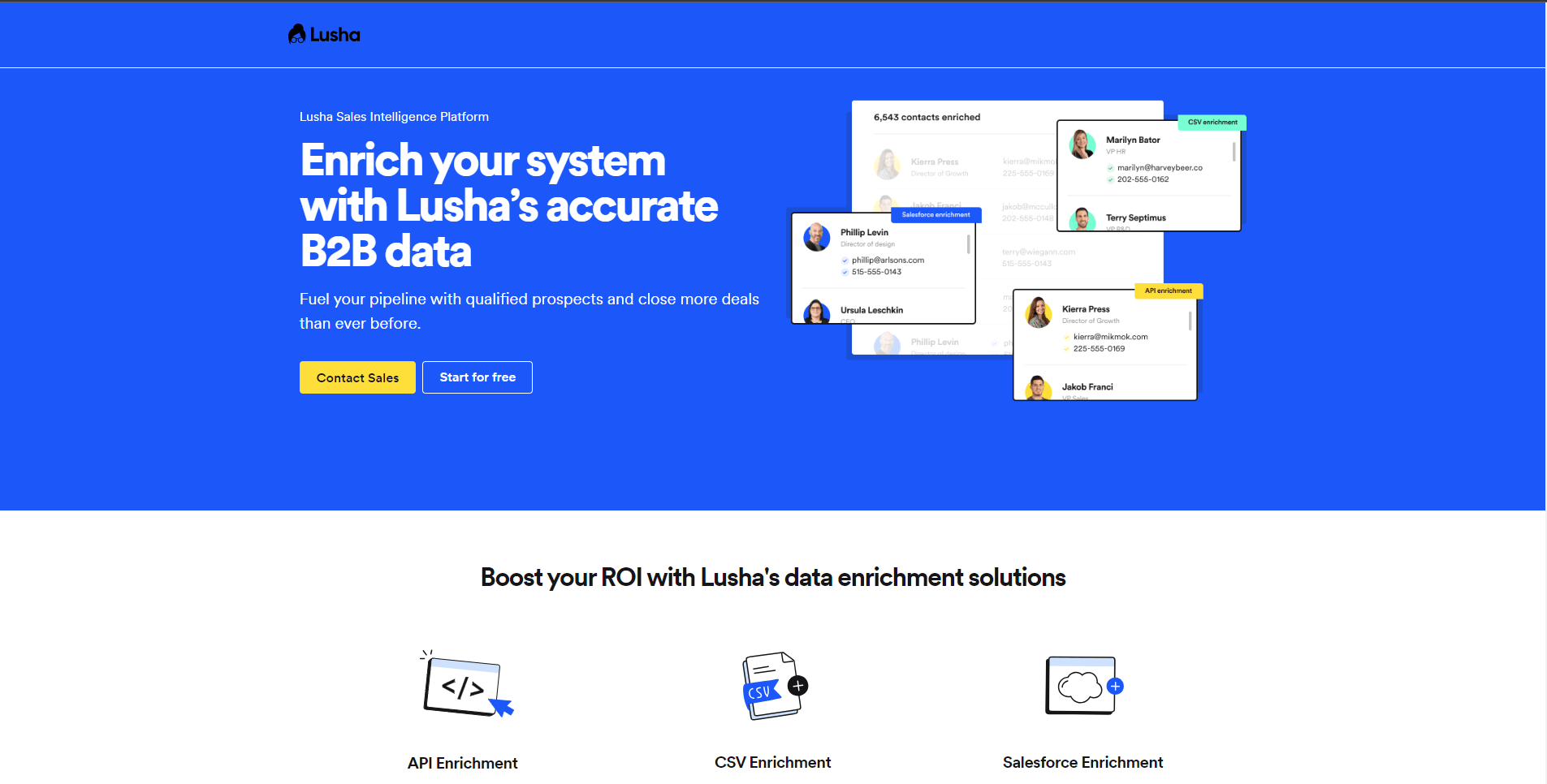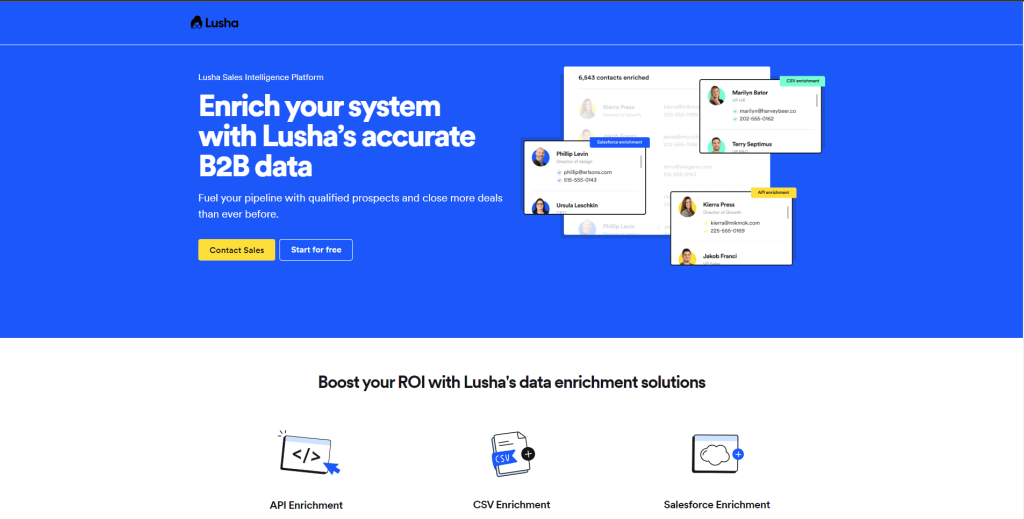 Lusha is a prospecting platform that offers unlimited B2B leads. It helps the user to get the direct emails, phone numbers and free trials. This app helps you to reach your full potential by maximizing your productivity so that you can achieve your full revenue potential.
Features offered by Lusha:
Vital prospect information

: To surpass your objectives, pull up millions of decision makers' direct dials and focus on high-priority accounts. In a single search, you can find up to 1,000 contacts or businesses with richer data.

Excellent privacy

: With the only ISO-27701 certified sales intelligence platform, you can always prospect in compliance with GDPR and CCPA.

Get exclusive data

: Get the precise data with 7 filters offered by Lusha. They have a seven-step data verification system.

Scaled Data Enrichment: Automatically add current and new data to vast quantities of contacts. To simply scale your sales, use the Lusha API, CSV, and Salesforce Data Enrichment.
MailChimp is an email marketing platform that helps you run bulk email campaigns. MailChimp is only concerned with mass email campaigns. The company's slogan, "True Emails into Revenue," makes it obvious what their product can do.
Features offered by mail chimp:
They provide round-the-clock email and chat support, which facilitates the simple onboarding process.

Four times as many leads using Customer Journey Builder automation generation.

For each email, the content optimizer will examine an average of 20 million data points and provide personalized recommendations.

Targeting your most valuable clients will increase customer value and likelihood to buy segments.
LeadGorialla.io is AI powered lead finder that lets you find more leads. The software offers to find qualified leads, AI suggested services, Identify Issue with AI and Send AI-written proposals to close more leads.
Features offered by leadgorilla.io:
Using our NEW AI Powered Lead Score Technology, you may find the highest quality leads on the market.

Spend less time prospecting for your services so that you have more time to work on tasks that will generate income. 

With AI, eliminate the worry of rejection. Good Conversion Create Cold Emails more interaction with brand-new client PDFs that are conversion focused. 

Using AI writing tools, Google Business Profile (GBP), Facebook, and Yelp descriptions the capability of conducting a GBP business name-specific search

For all GBP and Facebook leads, accurate and modern email identification is required.

Enhance business reviews using cutting-edge AI Yelp, Google, and Facebook review sites support several languages for client-generated reports.
These are some of the trusted lead generation software that can help get qualified leads for your sales pipeline. The right lead generation agency, for you, that offers qualified lead generation software majorly depends on the channel the targeted companies in your industry are present in. Look for a lead generation software that offers features and services in various outreach channels as this will present you with more opportunities to convert your target audience into a lead. Another important factor that you should consider while choosing a lead gen agency is the flexibility of services and pricing so that you can select services that are useful to you.
Features That the Best Lead Generation Companies Have In Their Software Stack
The process of collecting, storing, and using lead data as it moves through the sales and marketing funnel is handled by lead generation software. Automated contact management, lead contact duties, lead segmentation, and lead quality score are some of the main characteristics of lead generation software.
Lead generation software offers resources to manage advertising and marketing assets, track views and impressions, and draw in and convert leads into customers. These products promote active engagement with your leads by providing capabilities that can build personalized interactive content, including landing pages, chatbots, or surveys. They also give you information about your potential clients and the general success of your lead generation plan.
Lead Management Software and Sales and Marketing Automation Platforms are both included in lead generation software, although these products differ in a number of ways. In particular, lead generation software is made to help with lead prospecting, positioning these items as a way to generate leads in accordance with specific rules and tactics.
How Can You Outsource the Best B2b Lead Generation Services?
B2B lead generation is to locate the appropriate customers for your service or product so that you can subsequently persuade them to make a purchase. It's a fundamental component of what B2B sales and marketing experts do.
Working with a business lead generation company is what it means to outsource your b2b lead generation. The business will produce leads using its tools and strategies, which you may then pursue.
You might anticipate gaining a number of advantages when you outsource your lead creation approach. The most evident advantage may be the time you'll have to devote to other facets of your company.
Additionally, you'll probably see an improvement in the caliber of your leads. Working with a professional lead generation business gives you access to a team of knowledgeable experts that understand how to produce high-quality leads as opposed to focusing on quantity but getting no results.
Additionally, you can save money by outsourcing your lead creation strategy. Despite the expense of getting leads, you can still get qualified leads that will eventually make purchases from you.
In essence, you should seek to save time, enhance the quality of your leads, and reduce costs when you outsource your lead generating plan.
How to Do B2B Lead Generation?
A B2B company can create leads in a variety of methods. The most popular techniques involve using internet platforms like social media, SEO, and pay-per-click (PPC) advertising. Another offline option is event marketing services include in person meeting of the leads during a corporate event. You can choose a digital marketing service for your lead generation.
In digital marketing services lead is generated using Seo services, content marketing, social media marketing and more. In these marketing companies lead generation experts use inbound marketing strategies that are related to lead generation. Lead generation marketing is different from lead generation using sales strategies.
What Is the Difference Between Lead Generation Agencies and Digital Marketing Agencies?
While lead generation services and marketing agencies occasionally carry out comparable duties, their overarching objectives tend to be different. 
A marketing agency may supply leads while focusing more on expanding your company in terms of overall marketing objectives. A lead generation agency will work to quickly produce leads to your sales staff. 
Consider a timeline as one approach to examine the variations between various agency varieties. While a marketing agency prefers to play a longer game, lead generation is typically a quick, short-term answer for speedy growth. 
A lead generating company will spend a lot of money on advertising and direct traffic to your landing pages, where they will collect visitor data and generate qualified sales leads. This can immediately give you a lift. But with time, these strategies may level off and yield decreasing results if there isn't a big change in the overall plan. Additionally, the leads will stop coming in as soon as you stop paying for the advertisement.
A marketing firm will devote more work to developing a system that can support itself. For instance, by writing and publishing pertinent blogs, product guides, and tutorials along with other things, a marketing firm can assist you in generating organic search traffic to your website by constructing a content strategy. This kind of timeless content may continually drive traffic to your website and strengthen customer relationships with your company. 
The types of leads that these two different agency types return is another key distinction between them. 
A lead generation business will pay attention to the kinds of leads they are gathering. Before handing off leads to your sales team, they frequently get in touch with prospects to manually verify, classify, or qualify them so that all that is required is a follow-up or a focused pitch. 
This procedure is frequently automated by marketing firms, which results in leads that might not be very interested in your goods or services. This form of automation has the advantage of being simple to scale as leads and traffic grow. 
Your specific and distinct business objectives will determine which agency you choose, although both can produce quantifiable outcomes.
Best Practices for Lead Gen on LinkedIn to Get Qualified Sales Leads
Generating qualified sales leads on LinkedIn requires a strategic approach that focuses on building relationships, providing value, and targeting the right audience. Here are some best practices to help you achieve success:
Polish Your Profile: First things first, spiff up your profile. A pro pic, a catchy headline – make it pop!
Know Your Crew: Pinpoint your dream customers. What makes them tick? This helps you aim your shots better.
Share Smart Content: Don't just scroll, share! Put out content that solves their problems – they'll come running.
Be a Social Butterfly: Engage with posts, toss out personalized connection requests, and slide into groups that match your scene.
Sales Navigator Jedi: Feel the force with LinkedIn's Sales Navigator. It's like having X-ray vision for leads.
One-on-One Charm: Skip the 'salesy' spiel. Write like you're chatting over coffee, not a boardroom.
Magnetize Leads: Offer cool stuff like eBooks or webinars. They share contact info, you share wisdom.
Ad-venture Time: Try targeted ads and sponsored posts. It's like catnip for your potential leads.
Detective Work with Analytics: Watch your moves! LinkedIn's analytics show if you're a hit or miss. Tweak accordingly.
Love the Long Game: Rome wasn't built in a day. Nurture relationships by dishing out value. Sales can wait, trust can't.
Remember, Lead generation and appointment setting both are equally important.
Lead generation organizations are useful for assisting B2B and B2C companies in generating high-quality leads. To engage and convert prospects, these businesses provide professional services including SEO, ABM, database management, and appointment arranging. Choose a lead generation company that offers software that carter couple of your top demand generation needs. Work with any of the top lead generation businesses listed here to increase brand recognition, produce quality leads, and secure more money!